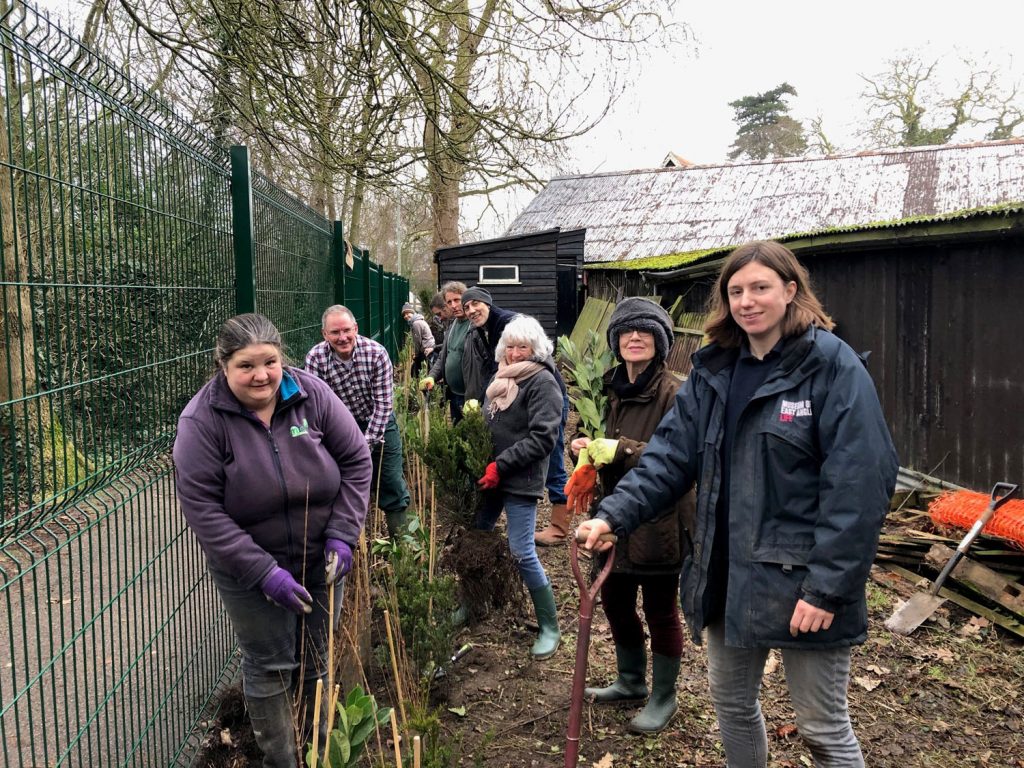 Volunteer
There are plenty of ways you can get more involved at the museum and one of the most rewarding is to volunteer. Whether it's working with our collection, out on the estate or with our visitors, there are volunteer roles to suit everyone. If you can give a few hours a week, a few days a year or anything in between, you'll make a massive difference to the museum.
We have over 100 active volunteers and are always on the look-out for passionate and loyal people to join us.
You could:
work in a public facing role that help us engage our visitors, e.g. as a 'meeter and greeter' in our exhibition rooms

work on our collection and buildings, for example as a collections researcher or helping us to document our collection

demonstrate traditional skills and crafts or take part in historic reenactments

help us to maintain our 75 acre estate, environment and beautiful gardens

work with our learning team to engage, excite and inspire our young visitors

help us to run our events programme, e.g. stewarding at an event or serving behind the bar at our Beer and Brewing Festival
Volunteering can provide many benefits and rewards:
the opportunity to gain valuable hands-on experience and skills through a variety of museum roles and improve your CV

taking up a new hobby, meeting people and making new friends

learning about history or heritage skills and crafts

the pleasure and health benefits of working outside in the Suffolk countryside

the opportunity to contribute to your community and the satisfaction of helping others and 'giving something back'
For more details on how to become a volunteer and what it entails please contact us on volunteering@foodmuseum.org.uk or telephone 01449 612229.
Join Search for the Stars, our groundbreaking digitisation initiative. Help our museum collections team transfer data over from paper record cards to our online management system which will make browsing our collection possible for everyone! Along the way volunteers are encouraged to highlight any 'star' objects.
We're looking for people with an interest in social history, with basic IT skills, who work accurately and thinks outside of the box. This could suit a student or someone looking to pursue a career in history or heritage, alternatively, it would suit anyone looking for a meaningful and flexible volunteer opportunity that provides transferable skills and fits around other commitments.
Be part of our collections documentation project Shooting Stars and join the crew to clean, locate and photograph every object in our collection. This opportunity gives you a chance to get behind the scenes of a museum and work closely with our historic collection.
No previous experience is required, full training is given. However, we are looking for people with an interest in objects, photography and enjoy working in a small, dedicated team.
Help the collections team to research 'Star Objects' in our collection and uncover fascinating stories. 
We are looking for people who have an inquisitive mind, enjoy analysing information and are able to work to a brief. This opportunity can be taken on-site or remotely anytime of the day.
The museum offers supported volunteering opportunities and therapeutic placements for people with disabilities or additional needs. Getting involved in volunteering is a great way for people to learn new things, meet new people and have fun! It can help build independence, self confidence and a sense of responsibility. And of course, it contributes to the life of the community.
Regular activities include working with our small animals, gardening and horticulture, wildlife conservation or general estate maintenance and repairs.
You have to be at least 14 years old to volunteer. Other than that, age is no barrier. We all have something to offer no matter what our age.
How much time do you have to give? You can spend as much or as little time as you wish volunteering.
In the first instance you should contact the museum, on 01449 612229 or email volunteering@foodmuseum.org.uk. We will send you a list of all our available roles and put you in contact with the member of staff most suited to your area of interest who will arrange for you to visit and have an informal chat about the role you may be interested in. If you join us you will attend an induction which will cover things such as health and safety, signing in procedures and who your supervisor will be, as well as practical things like where all the facilities are and introducing you to other staff and volunteers.
Roles which require more responsibility, such as being a trustee, will involve a more formal interview.
Unfortunately we are unable to reimburse travelling and other expenses
Yes. Volunteering does not affect your benefits, although you may have to let the Job Centre know.
Yes. There are activities that are suitable outside of normal working hours such as at the weekend or when you are on annual leave, or that you can do from home in the evenings.
Most volunteer roles don't require special skills or qualifications and you will be given any training you need. Some roles require certain skills but this will be stated clearly in the role description.
Occasionally we can help volunteers obtain qualifications such as an NVQ. If this is your goal, please mention this when you contact us and we will do our best to support you. Even if you can't get a qualification, volunteering can help you gain valuable experience, skills and a referee for future employment.
We will make sure that you have what you need to perform your role, you are insured, and you know who to go to if you have a question or a problem.