Buildings
As well as fascinating objects, The Food Museum is home to many historic buildings ready for you to explore.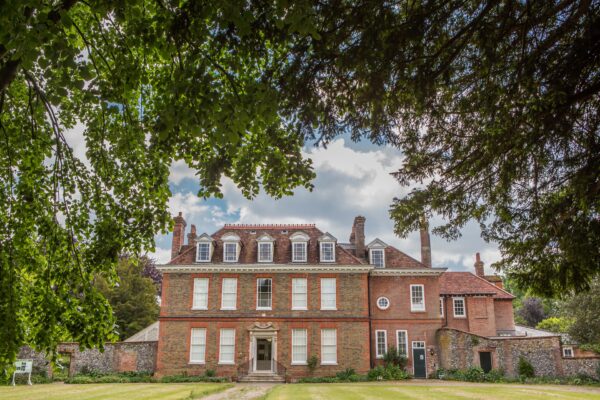 1709 with 19th and 20th century additions
Abbot's Hall sat at the heart of a food-growing estate.
The estate produced many different types of food – grain for bread, hops for beer, vegetables, fruit and meat from livestock and poultry. The estate fed its owners, their servants and workers, and produced surplus food to sell. In addition, parcels of land were probably rented to tenant farmers.
A sale description from 1803 describes it as having '125 acres of extremely rich and fertile arable, meadow and pasture lands and hop ground, in the highest state of cultivation'. It also had gardens and an orchard 'well planted with choice fruit trees now in full bearing' and ponds 'well stocked with fish'.
Local merchant Charles Blosse built the current house in 1709 but there has been an estate here for much longer. The name 'Abbot's Hall' reflects this history.
In the 12th century, King Henry II gave an estate or manor that included this site to the Abbey of St Osyth in Essex. The farmland was probably let to a tenant farmer to raise money for the abbey. The abbey lost its wealth in the 16th-century Dissolution of the Monasteries and ownership of the manor eventually went back to the Crown. The estate was sold and then sold again every two or three generations.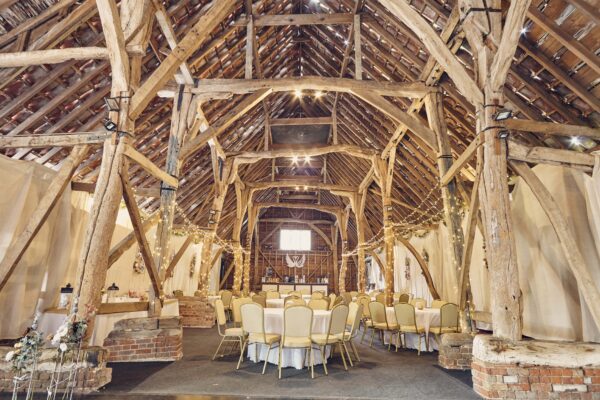 13th to 15th century with later repairs
This is the oldest building on the museum site.
It was used to process and store the harvest from the estate. It has two threshing floors with large doors which enabled the unloading of wagons and created a draught to carry away the inedible chaff during threshing.
Hand threshing provided winter work for farm labourers when it was too wet to work outside and they would otherwise be laid off without pay. The labourers used a flail or 'stick-and-a-half' to beat the grain (edible seed) from the ear (the cluster at the top of the stem). This was followed by winnowing (separating out) the grain using a draught or fan so it was ready for milling. The invention of the threshing drum and later the combine harvester streamlined these processes for the farmer, reducing time and labour.
The barn is used for events and can be hired for weddings or corporate occasions. Find out more here.
Mid-18th century with later additions to house, Stutton, Suffolk
Mills process some of our key foodstuffs.  They use the power of water to grind flour and roll oats.
A miller's job was hard and time-consuming. Herbert Southgate, miller from 1879, worked day and night, closing at 6pm on Saturday and re-opening at 6am on Monday. He was also a corn-merchant with a stand at the corn exchange in Ipswich.
In 1903, Southgate employed George Blackmore to run the mill, assisted by his wife and six children. They lived in the mill house until the outbreak of the Second World War when they moved to Ipswich. Afterwards, the mill was no longer used on a commercial basis.
This mill with its house and cart lodge was relocated here in the 1970s when Alton Water reservoir was created. If you look inside you'll see that it has an overshot wheel, with the water fed from above. This is unusual in East Anglia due to the flatness of the land.
Mills were once found in every community. Today most flour is processed in large, modern factories using roller mills and production lines.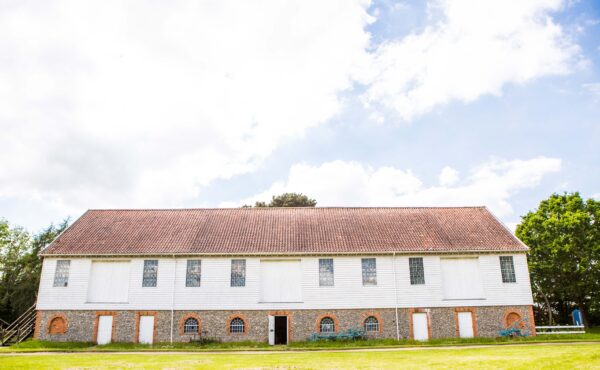 c.1870, Bury St Edmunds, Suffolk
To get food from the field to our plates, many processes and tools are needed.
The ways in which people made food changed dramatically in the 19th century. Processes which had been carried out by hand locally became mechanised in towns and cities.
This building was a woodworking shop, part of a factory where dressing machines were made. Farmers used them to loosen the wheat (edible seed) from the chaff (inedible husk) before it could be winnowed or separated ready for milling.
In 1843 Robert Boby set up business as an ironmonger, brazier (brass worker) and turner (lathe operator). By the 1870s the company had expanded into making agricultural implements. These included winnowing and grain cleaning, malting and milling equipment, and machinery for processing flax.
Boby was an innovator: he successfully created products that met farmers' needs. In 1856 he won a Gold Medal at the Royal Show in Chelmsford for an improved corn dressing and winnowing machine with a self-cleaning screen (sieve) – the first of over 50 awards for the company.
1920, Lavenham, Suffolk
From the mid-1800s to the 1940s, steam-driven machinery played a central role on the farm.
This building was the workshop for Frank Mortlock and Sons, based in Lavenham, Suffolk. Frank, with his sons Victor and Fred, were engineers, machinery merchants and contractors.
The Mortlocks used their workshop to repair steam traction engines and farming equipment. It was also a base for their contracting business, hiring out engines and equipment along with gangs of workers to farms around Bury St Edmunds and Monks Eleigh in Suffolk.
The sloping sides of the building housed a line shafting system of pulleys, gears and belts. This enabled a single oil engine to operate all the heavy-duty machine tools required in an engineering workshop.
The growing popularity of petrol and diesel-powered tractors and combine harvesters presented unbeatable competition. Their business ceased trading in 1968.
The Mortlock building now houses our collection of steam engines.
c.1850s, Eastbridge, Suffolk
While this building is sometimes called a 'smock drainage mill', it does not mill anything. It's a windpump and its job is to drain water from land.
It is necessary to have water in order to grow crops or grass to feed animals. However, too much water is a problem. Farmers dig ditches and lay drains across fields in order to direct water and make land more productive.
This building was one of four pumps used to drain the marshes at Minsmere near Eastbridge, Suffolk so that they could be used to graze cattle. The water was pumped out through a system of ditches that led to an artificial drainage channel known as the 'New Cut'.
Land drainage has a cost to existing ecosystems – the wildlife which relies on waterlogged land cannot survive.
The need to feed increasing numbers of people and to protect nature have often competed. Government policy has usually favoured food production and the economy over conservation. In the 19th century legal protection for nature began to be introduced, often as a result of activism.
Today, Minsmere is an RSPB wetland bird reserve.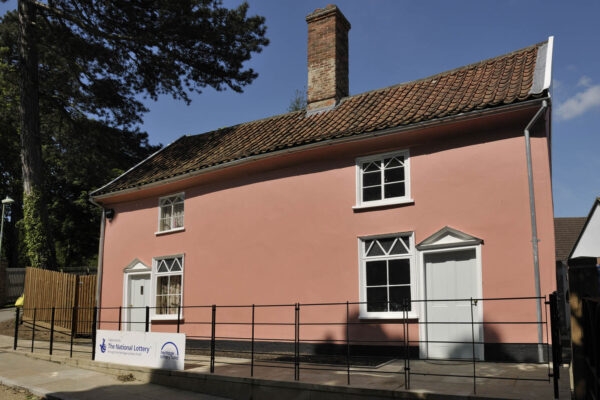 Early 18th century with later additions
This pair of cottages were built in the early 1700s to house estate workers and their families. They were known as 'tied' accommodation and came with the job.
The last resident was Emily Wilding who worked as a cook in Abbot's Hall from 1922. In 1928 she married widower Fred Wilding. Fred was the foreman, head horseman and relief cowman for the Abbot's Hall farm and brought two children to their marriage. They occupied both cottages.
From 1936 to 1947, Emily ran the farm dairy from a back room in the cottages. The cowman delivered fresh milk in churns. The dairy was used to prepare milk and butter for the Longe family in Abbot's Hall, with surplus milk and cream sold to the townspeople from the cottage door. There was also a twice-daily milk round in the town centre undertaken by Fred's sons Leonard and Kenneth.
Supermarkets have largely replaced the milk round. Only 3% of people got milk delivered to their door in 2021.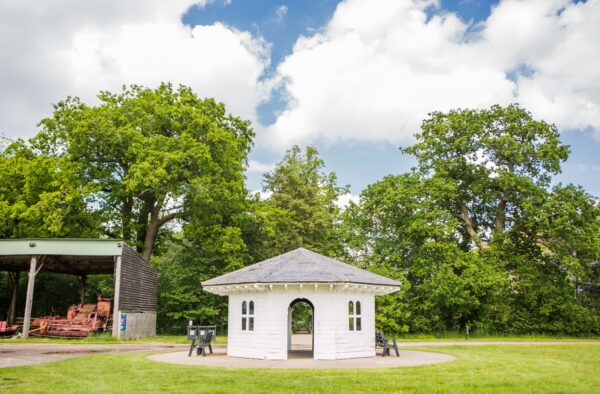 1864, Bury St Edmunds, Suffolk
The Settling House sat at the heart of Bury St Edmunds cattle market for over 130 years.
It was originally used to hand out tickets to auctions and settle accounts between farmers and merchants when animals were sold on market days. In time, the toll collector was granted a licence to sell ginger beer and buns as well.
The right to hold a market was granted by royal charter. Markets were essential to the movement of goods, particularly food. Farmers came to sell their grain, livestock and produce alongside smallholders selling their vegetables and eggs. Some markets came to specialise in a particular product.
The building is a reminder of the time when farming was the lifeblood of market towns such as Bury St Edmunds and Stowmarket. Market day was the highlight of the week, a place for meeting people and doing business, and also the symbolic meeting point between town and country with lots of hustle and bustle.
Today the former market site is occupied by a shopping centre and car park.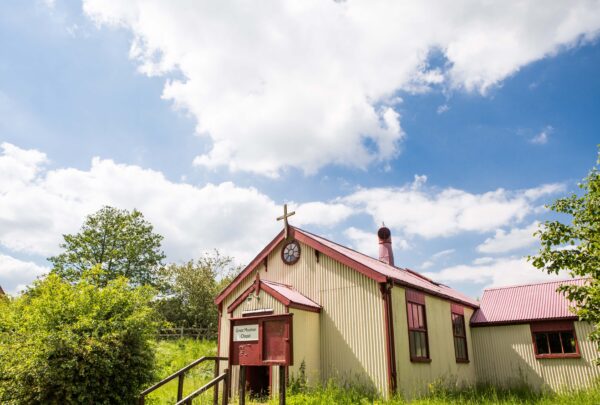 1890s, Great Moulton, South Norfolk
This chapel served a Norfolk farming community of nonconformists.
In 19th-century rural areas many people worked on the land with the pattern of their lives shaped by landlords, squires, farmers and the Church of England as the country's 'established' church.
Those who had different ideas and broke away from the official church were called nonconformists or dissenters. Great Moulton was one of a number of East Anglian mission churches created when Norfolk curate Robert Govett left the Church of England in 1845, partly because of his different views on infant baptism.
The space inside the building was basic, but would be filled with voices in song, the preacher's sermon and the sound of prayer. Up to 60 children attended the Sunday School to hear stories and study the Bible. Annual celebrations included the Harvest Festival with displays of food.
The style of building is known as a 'tin tabernacle' or 'iron church' due to its flat-pack nature and use of mass-produced corrugated iron. Their easy construction  and relatively low cost led to a booming export market to the British colonies,  from Australia to South Africa.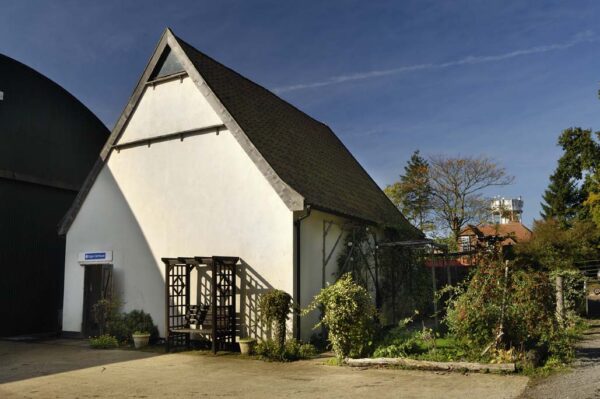 14th century, Combs, Suffolk
Edgar's Farmhouse was 'discovered' inside the structure of a much larger farmhouse dating from the Victorian era.
In medieval houses eating and sleeping often happened in the same space. Brick chimneys were not common until Tudor times so a fire for cooking and heating was lit in the middle of the floor in the main room, known as the hall.
The first recorded owner of this farmhouse was a relatively rich yeoman farmer and his wife, John and Ascelina Adgor. In 1346 the Adgors held nearly 40 acres of arable land, 1.5 acres of meadow, 1 acre of pasture, a rood (quarter acre) of wood and 3 acres of alderwood. In return they paid an annual rent of 12 shillings and attended the court of Lord Edmund of Combs every three weeks to play a role in upholding the law in the parish.
The farmhouse was demolished in the 1970s to make way for new housing to the south of Stowmarket. The style of building with its central hall and aisles down each side was once common in the east of England although few examples exist today.
c.1750, Grundisburgh, Suffolk
The diverse skills of the blacksmith were essential to everyday life in a rural community.
Blacksmiths worked with iron and steel to make nails, screws and bolts, repair farm tools and machinery, and make or repair goods used in the home such as cooking pots. They were also called upon to make and fit shoes for horses – blacksmiths who specialised in horse work were called farriers.
For nearly 200 years this forge was a bustling and vibrant place, hot from the glowing furnace and filled with the din of metal being hammered.
The last blacksmith to own and use the building was Frederick Joseph Crapnell who took over the premises in 1913 and retired in 1968 at the age of 86. Both his father and grandfather had been blacksmiths.
As mechanisation and mass-production increased after the Second World War, the demand for blacksmiths was reduced, although some survived by applying their metalwork skills to cars and garages.
Second World War
Temporarily closed for renovations. 
These two buildings probably came from Mendlesham Airfield, which was used by the United States 8th Air Force.
During the Second World War, hundreds of airfields and the depots that supplied them were set up in the UK, particularly in East Anglia. Farmland was requisitioned (taken over by the government) for this purpose.
Building designs were standardised and prefabricated to simplify their construction. Huts like these were used for all kinds of purposes from sleeping accommodation and offices to recreation rooms and cooking huts.
At the end of the war, most of the land was returned to farmland again. Although the huts were built as temporary structures, many were repurposed for use on farms and can still be spotted in the region today.