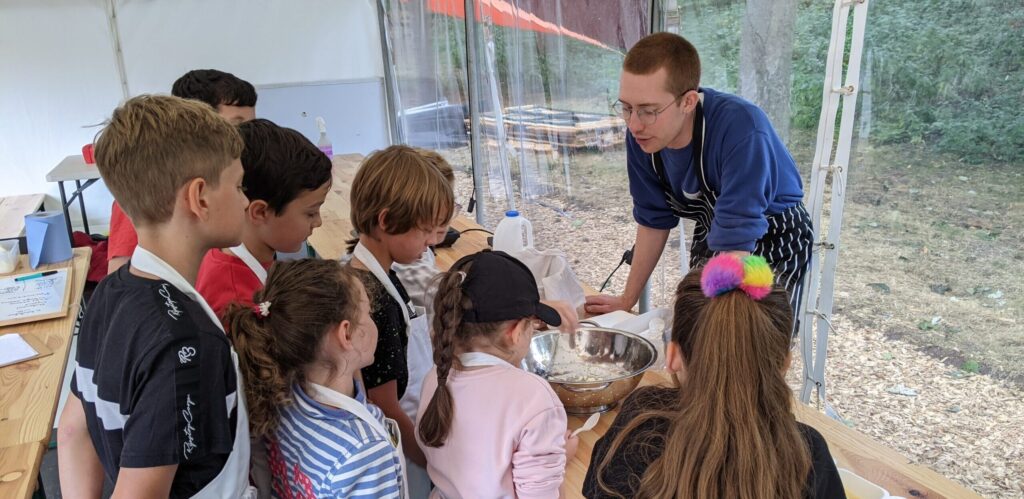 Summer at the Food Museum
The Summer has arrived and the Food Museum has something for everyone to enjoy.
During the Summer holidays, we have a programme packed with hands-on cooking workshops, including:
Throughout August we'll have the museum's summer holiday programme Thrills and Grills, which gives 7–12-year-olds a full day of activities – half a day cooking with award-winning professional chef Jake Barwood, followed by half a day of activities (Tuesdays and Wednesdays in August, £35 including lunch, pre-booking essential).
Wood-Fired Pizza Workshops making delicious flatbread pizzas from scratch (Thursdays and Saturdays in July and August, 10.30-1.30, £5, prebooking essential).
Outdoor Cooking Adventures (Mondays in August, 10.30-1.30, suitable for 6+, £5, prebooking essential), families can cook lunch over a campfire together, learning skills such as lighting a fire and foraging ingredients.
Have you visited the refurbished Bone Building yet? Take a look at our annual exhibition for 2022 Hedgerow which explores and celebrates hedgerows and how they have become part of our food system. Inside you'll also find a demonstration kitchen with a daily Food from the Hedgerow demonstration where you can watch our learning assistants cook foraged items from the museum site and have a taste.
2022 has also seen us reopen Alton Watermill after a project to restore it back to working condition. Come and experience the inner workings of a watermill and understand the role of milling in the bread-making process with a weekly tour on Fridays at 2 pm. Pick up a copy of our Bread Trail, following the journey from seed to loaf.
Share this article