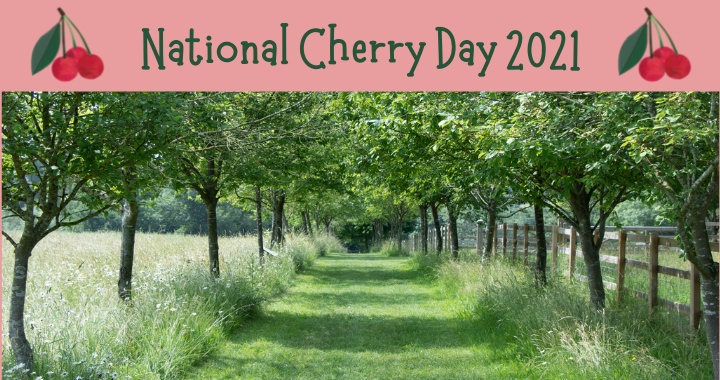 National Cherry Day
National Cherry Day
Today is National Cherry Day, a day started as part of a campaign to save the British cherry. During the 20th century Britain lost 90% of its cherry orchards. It could be said that this is due to international imports accounting for the majority of the fruit sold here. Considering the cheaper options and availability of cherries in supermarkets, the cost of growing our own was perhaps not considered a viable option.
National Cherry Day seems like the perfect day to explore the importance of cherries as a fruit, as well as our local heritage and museum site, so hopefully this will give some insight into the wonders of our local cherries.
Cherries growing outside the Boby building at the museum (Bird Cherry).
Cherries
Cherries are a well loved fruit, included in some of our favourite recipes. From bakewell tarts to fruit pies, there are many delicious treats to be enjoyed. They are often an amazing red, although they also come in yellow and darker, almost purple, varieties; the darker and richer the colour, the sweeter the flavour. Our love for cherries is not new, it dates back thousands of years. Thought to be one of the oldest cultivated fruits, they were introduced to Britain in the first century AD. 
Not only are cherries tasty, but a great source of fibre, calcium and vitamin A too. Containing antioxidants, they are said to have anti-inflammatory properties.
As well as being great to eat, cherries and their trees have many other interesting uses. They encourage pollination and attract wildlife; their rich colour can be used to create dyes; and their hardwood is a favourite for making furniture and hand tools.
STMEA:B.502 a turnip hoe in our collection, thought to have a handle made from cherry wood.
The Stowmarket Cherry Fair
An event that greatly celebrated cherries, and built their connection with Stowmarket, is the Stowmarket Cherry Fair. This was an annual event held in July, taking place in the grounds of Abbot's Hall, from approximately the sixteenth century onwards.
According to the late Harry Double in his book 'Stowmarket – A Book of Records':-
'Stowmarket generally was famous for this fruit and behind the Hall was a cherry orchard which was thrown open to the general public for the duration of the fair. In the centre of the orchard was a large pond, on the banks of which was a promenade four or five feet wide, covered in turf, and during the fair honoured guests from amongst the leading townspeople and neighbouring county families paraded in the latest fashions. It was a place where people came to be seen.
On the days of the event, there were stalls on both sides of a central walk, piled high with cherries, with two or three bushels on each stand, and there were carts outside waiting to replenish them. History records that 'all the lower classes of people attending the fair – men, women and children – in eating the cherries invariably swallowed the stones with them.'
The fair gradually died out from the 1820s onwards and we may never know the true reason why. It is thought drunkenness and unruliness played a part, or perhaps it was the cherries and orchards slowly disappearing from the local area.
Cherries in the Abbot's Hall parlour and dining room windows.
These cherries in the windows of Abbot's Hall symbolize the importance of the fruit as part of the story of the Abbot's Hall Estate, as well as the local area. They are a glimpse into our local history, preserving memories and detail of past activities. You can still come and see them by popping into the reconstructed conservatory.
Orchard and Cherry Walk
There are many different varieties, sizes and ages of cherry trees throughout our site, the majority being in our Orchard and Cherry Walk.
In 2019 the museum planted an orchard with the support of the Suffolk Traditional Orchard Group through the University of East Anglia's Orchards East project. It was planted to highlight an important part of our landscape, and to provide a great educational resource for visitors as it grows and becomes an established collection of fruit and nut trees. 
Within the orchard are six different varieties of cherry tree: Morello, Stella, Yellows, Waterloo, Napoleon Bigarreau and Polstead Black. All of the fruits chosen are considered great varieties to make food and drinks with, while also keeping the local area in mind. Not only does the orchard highlight the importance of fruit as a food, it also plays a big part in biodiversity, attracting wildlife and pollination. 
The orchard. Polstead cherry tree pictured on the left. 
On the route down to the orchard is the Cherry Walk. A row of Bird Cherry trees line the pathway on both sides, creating life and colour. When in blossom this walkway is brought to life by the flowers and insects drawn to them. Although the cherries that these trees produce do not taste nice for us to eat, they provide a great treat for birds and mammals such as badgers. They are not without their purposes for us too; their fruits can be used to make liqueur, or for dyeing wool, and in the past Bird Cherry was used medicinally to make cough medicines and treat anaemia.
The Cherry Walk.
Fruit Full Exhibition
Fruit Full, by artist Françoise Sergy, is our current temporary exhibition taking place in Abbot's Hall throughout 2021. It asks the question: Why do we like sugar so much? 
The exhibition explores a wide range of fruits. It talks about some of the ways that cherries are used and preserved, such as the making of jam, as they quickly go soft. This is and was important, especially in the past when it was not possible to import fruits on the scale that we do today. No access to fridges meant cherries would deteriorate within days, so finding sources of food that could be eaten any time of year was a necessity.
Fruit Full is currently open to visitors, why not come and have a look? Find out more on our 'What's on' page at www.eastanglianlife.org.uk.
Two photographs taken by Françoise Sergy for the exhibition Fruit Full.
Overall it appears that cherries have a lot to give, and we have a lot to thank them for. Hopefully this has highlighted the importance of our local cherry trees, and maybe even inspired you to grow one of your own. 
How will you be celebrating National Cherry Day?
Share this article