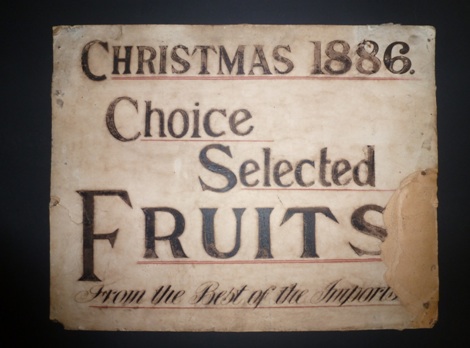 Clementines, Christingles and Currants
Have you ever woken up to find a clementine at the bottom of your Christmas stocking and wondered where this strange tradition came from? The Collections Team thought we'd investigate Christmas food traditions!
This sign was used in a grocers shop on Bury Street in Stowmarket and would have advertised their selection of Christmas fruits. This list might have included oranges, clementines, lemons and pomegranates.
The tradition of giving exotic fruit at Christmas is centuries old and is symbolic of the generosity and wealth of the person giving.  This is because exotic fruit in Britain was incredibly expensive as it would have been imported from around the world. Many people would have never had the chance to taste the range of fruit we take for granted.
We use fruit in lots of other Christmas traditions, from Christingle Services at church to sugar plum fairies.
What are your fruity Christmas traditions or memories? Why not comment and let us know!
Share this article