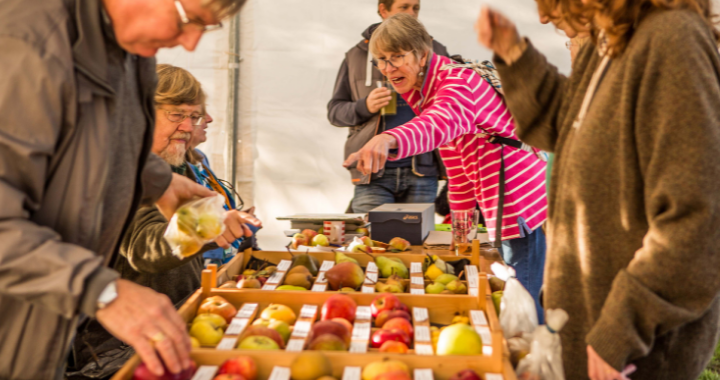 "Why Apples?" Fruit Identification and Food Heritage at Apple Day 2021 
Did you know that there are 2,500 types of apple in the UK? 
This is why apple day exists. Established in 1991 by Common Ground London, Apple Day is a way to celebrate and raise awareness of the vast variety of apples and fruit grown locally and across the country. The more people who understand how to recognise and look after different types of apples, the better chance we have of preserving our rich local fruit heritage! 
This is where the Suffolk Orchards Group come in: for one day only, they'll be running Apple Identification at the museum, giving you the chance to bring in your own apples to be examined by their trained experts! What will you discover? Will your apples be better for cooking, or do they perhaps make exceptional cider? Might you even have a whole new variety sitting undiscovered in your back garden? You'll have the unmissable opportunity to find out on October 23rd at one of the only Apple Day celebrations in Suffolk offering in-person fruit ID and expertise!  
It's the second year the Museum will be participating in nationwide Apple Day celebrations and the fourth year of our ongoing partnership with the Suffolk Traditional Orchards Group and Orchards East. They joined us in 2018 and 2019 for our Cider and Song Festival, and helped the Museum establish our very own orchard, where we have over 60 types of apples, pears, berries, and nuts growing right here on site!  
We're so excited to welcome them back to the museum for Apple Day 2021! Their specialist knowledge will not only help visitors identify unknown apples growing in their gardens, allotments, and in their local area, but it will help Orchards East build a better picture of Suffolk's diverse fruit landscape. 
"What do I have to do on the day?" 
To give the experts as good an opportunity as possible to identify your mystery fruit, you need to ensure you arrive at the museum on October 23rd with: 
At 

least

 three good, clean representative samples (i.e. typical of the particular fruit) from the same tree, with stalk and eye intact, and as little insect damage, bruising, or rot as possible. Avoid unripe apples that are well before the date they would normally fall. Be wary of black entry holes where codlin moth larvae might have penetrated, as they can damage the fruit core and make identification difficult.

 
Additional information that will help the identifier:  
As much historical and contextual information about the tree as you can gather

 

The size of the tree and trunk diameter

 
When the fruit normally ripens, whether the tree crops every year or every other year, when it blossoms and how long the fruit keeps.

 

A completed Fruit ID Sample Sheet, 

availa

ble

here

. Additional Sample Sheets will be available on the day.

 
Having your unknown apples and fruit identified by the Orchard Group helps us build a better picture of the varieties of fruit growing in the local area. As experts in how to care for and use the diverse varieties of fruit we have in Suffolk and the UK, they'll be able to give you advice on how best to look after your mystery fruit tree, and how to make the most of its produce! 
You can find more information about both the Suffolk Traditional Orchard Group and Orchards East on the PTES website, where you can also find links to other Suffolk-based apple and Orchard resources: https://ptes.org/campaigns/traditional-orchard-project/orchard-network/info-by-region/suffolk/  
Share this article