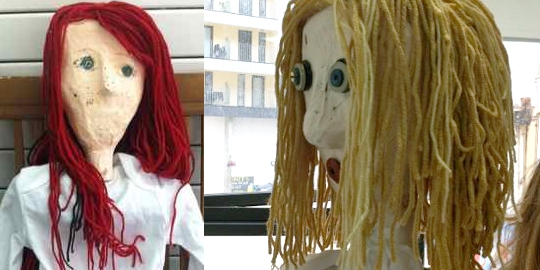 Puppets are incredible
This winter we'll be holding puppet workshops, all the dates for the course can be found here. The workshops, aimed at young people, aged 16-25 explore how the arts can contribute to your mental wellbeing, below artist and course leader Juliet Lockhart explains why…
Puppets are incredible.
Through a puppet, we can say things that we wouldn't otherwise have the courage to say or do.
A puppet is both the essence and reflection of a character; imagine making a puppet based on yourself, being able to show yourself as you would like other people to see you, to show the world who you are.
Puppet making is a fantastic art form as it encompasses so many different skills.
Whilst making a puppet you will learn or develop these skills:
Design
Drawing
Painting
Collage
Construction
Textile design
Stitching
Whether you are a complete beginner, love art and craft or just plain curious by the end of eight weeks you will have created a unique puppet.
Created in June

Came to life in October

Hand crafted with love and care,

with sprinkling of magic.
These courses are free and include all materials.
This is a fantastic opportunity to explore how the arts can contribute to your mental wellbeing. You don't need experience. Working in a small group you can build your confidence and develop your creative skills. Open to ages 16-25.
There are only eight places on each course. To book a place or find out more:
Email: julietartinmind@gmail.com
Phone: 07847 894602
"Remind me who I am again

I think I've lost my mind.

All around this world I've looked

But it's not here to find."
Share this article