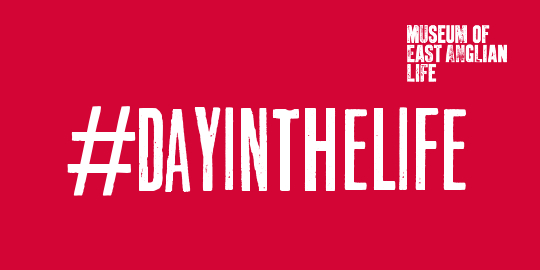 #MuseumWeek- A Day in the Life
We're rather enjoying #MuseumWeek over on Twitter, its a great excuse for museums and cultural organisations to have fun with their audience. Yesterday was Day 1- #DayInTheLife which meant lots of behind the scenes photos of all of the team hard at work, here's some you might have seen and some you might have missed!
There's always lots to do to get the site ready for visitors, updating the 'What's on' board means that hopefully nobody misses the fantastic tours we do.
The collections team are always busy behind the scenes, working with objects for upcoming exhibitions and displays or simply helping to organise and conserve our collection of over 32,000 objects!
Even our staff can't hide their amazement when we uncover some lovely pieces in our collection. With so many objects in our stores, its easy to forget what treasures we have.
Heading over to the large object store, its incredible to get an idea of the sheer scale of objects we have that aren't on display.
Sometimes the only way to reach those objects is with a good ol' forklift
Our most popular tweet was a quote from Jim on the estate, who witnessed our feeble attempts at animal photography and shouted "You're not trying to get the goat to take a selfie?!" Therefore it seemed only right to get him to pose for a picture!
We then watched him hard at work feeding the pigs
So there we have it #dayinthelife at the Museum of East Anglian Life. Keep an eye out all this week for more on our Twitter feed, especially that goat selfie
Share this article