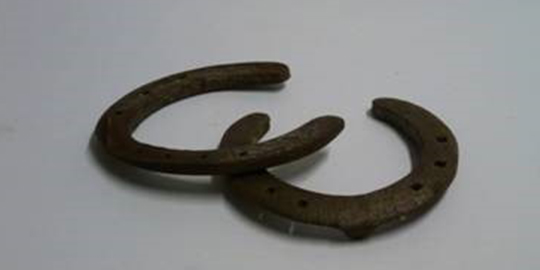 Life through the Eyes of East Anglian Artists – Object Focus: Horseshoes
This month we focus on the horseshoes displayed in our current temporary exhibition.
Horseshoes have been used on domesticated horses for centuries, and were designed to protect the horse's hoof from wear. Traditionally the shoes were nailed through the insensitive hoof wall (similar to a human toenail) so that it wouldn't hurt the animal, however nowadays they are sometimes glued. Each shoe is made, and fitted, specifically for each individual horse by a farrier.
The large horseshoes pictured were made for a Suffolk Punch horse. These animals have always been known for their strong pulling ability and stamina, even though they are surprisingly energetic and agile animals. Their shoes had to reflect these abilities, so they are large, heavy and hardwearing. In the exhibition you will be able to see them alongside a much smaller pony shoe!
Although working horses have almost disappeared from modern farms, the Suffolk Punch horse is significant to East Anglian rural life. It was arguably, at one time, the most vital part of any working farm especially with the heavy clay lands of East Anglia. To discover more about these magnificent animals, be sure to check out the Abbot's Hall Stable Block which is currently housing Suffolk Horse Power: Our Living Heritage, an exhibition by the Suffolk Horse Society. It will be running until 4th November 2016.
Life through the Eyes of East Anglian Artists is open until 31st March 2017 in Abbot's Hall and is free to visit.
Share this article