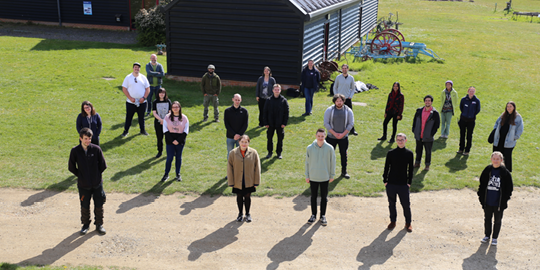 Kickstart
Opportunities for 18-24-year-olds
About Kickstart
Kickstart is a Government scheme to create new job placements for under 24 year-olds on Universal Credit at this time of high youth employment. The placements are 25 hours a week for a total of 6 months and they are paid at the National Minimum Wage/National Living Wage (18-20yrs: £6.56 ; 21-22yrs: £8.36; 23+: £8.91).
Our consortium
The Museum of East Anglian Life is leading a consortium of cultural and creative businesses to deliver Kickstart placements over the next year. Our consortium includes the John Peel Centre for the Creative Arts, Modece Architects, the National Horse Racing Museum, The Dacorum Heritage Trust Ltd, West Suffolk Council, Bawdsey Radar Trust and the Hitchin British Schools Trust.
What placements are on offer?
Applications are now open for the following placements at the Museum of East Anglian Life  – please click on the job title for more detailed information:
For details of our partner organisations' placements, please see:
The Dacorum Heritage Trust Ltd
Support
Each organisation in our consortium will provide job-specific training. In addition, the consortium will provide:
A mentor who will work with you to set personal goals
Training in applying for jobs, e.g. CV/application writing, practice interviews
Transferrable workplace training, e.g. health and safety
An online peer support programme
An introduction to different workplaces and roles across the consortium
A programme of enrichment activities, e.g. visits, talks and discussions
Eligibility
To be eligible for these placements, you must be between the ages of 18 and 24 and registered for Universal Credit. You need to be referred by your local Job Centre Find my local job centre
We are told that this process can be completed quickly, but please do not leave it till the last minute.
How to apply
You must register with the Job Centre before filling in our application form. Only applications from those that have been referred by their Job Centre work coach will be considered.
Then please download and complete these two forms:
They should both be returned to recruitment@eastanglianlife.org.uk
Share this article