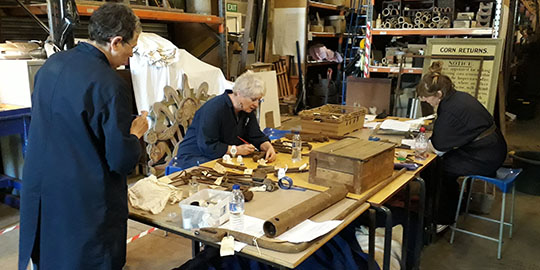 Volunteer with our object collection in 2019
Make a new start with some old things! Volunteer with our object collection in 2019
Looking for a fresh challenge in 2019? A way to meet new people, gain new skills or find a new interest? Our Collections Team might have just the thing for you.
We currently have three exciting projects underway which give you the chance to help look after, learn about, photograph and share our fascinating collection of around 40,000 objects. Here's how you can get involved with the collection as a volunteer.
Search for the Stars
Search for the Stars is our digitisation project, transferring the records of all our objects from old-fashioned index cards to an online system. This will enable us to create a free online catalogue of our collection for the public to search, browse and enjoy. As we'll be going through every single object's record to get them all online, this is also our chance to spot any objects which we think might have fascinating stories behind them. These are our potential 'star' objects – hence the name of the project!
We need your help with Search for the Stars, partly because this is a big job, but also because everyone brings a unique perspective and will spot different star objects. You don't need to be a computer whizz to get involved – if you can send an email, you will be able to do this.
Shooting Stars
Kicking off in the New Year, Shooting Stars is our big object photography initiative, creating high-quality images of our objects to illustrate the new online catalogue. We will also be carrying out basic conservation (cleaning and care) and documentation on each object during the photography process. If you are interested in photography or want to get hands on with the collection, this is your chance.
Fake News in the Age of the Horse
Is 'fake news' new?
Fake News in the Age of the Horse is our project exploring the many ways in which information and ideas were exchanged within and beyond East Anglia before 'modern technology' and asking how reliable those communication channels were. We will use the stories we uncover to create an interactive travelling exhibition which will tour East Anglia in a spectacular vehicle, possibly pulled by a horse, steam engine or vintage tractor.
The exhibition will go on the road in summer 2020, so in 2019 we are stepping up research activity on the project. We need you to help us find the fascinating stories behind our objects, working with a variety of research resources to uncover them.
If any of these opportunities sound like they might be for you, please get in touch. You can choose one of the four projects to focus on or mix and match between them. There are options to volunteer on site at the museum or remotely/from home. We do not expect anyone to be an expert in any of the above areas and training will be provided.
Contact Caitlin Peck at caitlin.peck@eastanglianlife.org.uk or call 01449 618227.
Share this article