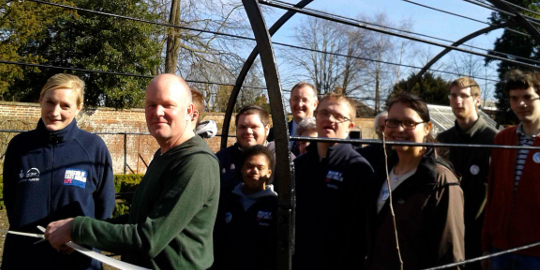 'The Walled Garden Presents…' Abbot's Hall Walled Garden, March 2014
The Walled Garden Presents…
The Apple Tunnel! March saw the completion and opening of the hugely anticipated Apple tunnel to Abbot's Hall Walled Garden, kindly Funded by Community Action Suffolk and The Friends of the Museum. The metal structure, made by Nigel Kaines of Designs on Metal supports 18 Adams Pearmain apple trees which will be trained as vertical cordons – forming a living, fruiting tunnel. The volunteers are very proud of this latest addition to the garden, and hope that it will be enjoyed for years to come.
This month we also planted up our 'Old Rose' bed. In 2005 Bill Wyman, Rolling Stone and metal-detector enthusiast uncovered a handful of metal rose labels from the late 19th and early 20th centuries. These may well have belonged to previous plantings within the garden and keen to have these represented I approached rose breeder Peter Beales in Norfolk. To my delight they had some of the varieties we were looking for – hybrid perpetuals 'Dupuy Jamain' (1868) and 'Ulrich Brunner (1882) as well as a hybrid tea called 'Betty Uprichard'. Aside from these roses we have also planted a mix of Bourbons, Gallicas, Portlands and Moss roses for scent, display and compatibility. Herbaceous perennials will also be inter-planted and in time I hope a bench will be sourced to place in front of the bed, so that these delicious sights and smells can be properly indulged. (Above) Andrew mulches the newly planted roses.
On the 23rd of this month the Museum opened its doors for the summer season. Eager for the Walled Garden to look its best the volunteers and I planted the new culinary herb bed on the Friday prior to opening. This really was a case of 'all hands on deck' as we spaced, planted and watered in over 100 plants. Hyssop, Sage, Savory and Welsh onions are just some varieties now represented in the formally laid out herb bed which can now be enjoyed by volunteers and visitors to the garden. In the photo Josh, Nathan, Paul, Tom, Thomas and John are all hard at work in a bid to get all the plants in prior to opening.
To coincide with the open day we also got the plant stall up and running. With a new lick of paint the stall is host to lots of plants for sale – Parsley, Chives, Marjoram, Lovage, Campanulas and Acanthus – among others – as well as a few vegetables. All proceeds contribute to the work in the Walled Garden, so why not pop in next time you are passing?
Lucy Skellorn
Heritage Garden trainee
Share this article