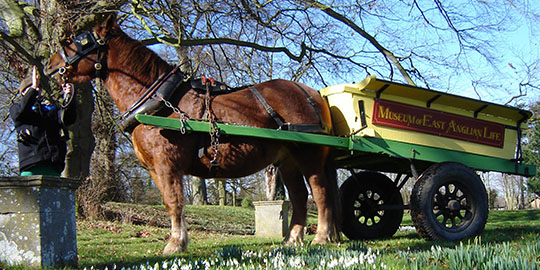 Roll up, roll up for another new project!
Fake news is everywhere. Or at least the phrase 'fake news' is. Decrying any story the user disbelieves (or dislikes), it has entered the daily language of the 21st century. It's even in the dictionary. But is the phenomenon of fake news new? Or has information always been distorted, spun and misunderstood as it was shared? What's really changed – the messages or the media?
This year, the Museum of East Anglian Life is kicking off a new project which asks exactly these questions. Fake News in the Age of the Horse will explore how information was shared before modern technology, often on four hooves – and how reliable it was. This project will look at news on all scales; everything from gossip down the village shop to news brought by travelling fairs to ideas from East Anglia that went on to change the world. After all, news isn't only the big issues of the day.
And the best bit? Fake News in the Age of the Horse is coming to you! A show-stopping, spectacular exhibition will be touring rural communities throughout East Anglia in the summer of 2020. Possibly pulled by a horse or a tractor, it will be inspired by travelling fairs and circuses and will make quite a scene wherever it goes. It will be interactive, fun and all-singing, all-dancing (perhaps literally).
But you don't have to wait until then to get involved. We want your thoughts, ideas and memories of life in East Anglia to inform the project, so we will be running all sorts of activities both at and outside the museum between now and 2020. Keep an eye out (and watch this blog) for updates. We're already looking for volunteers to help us research some of the collection objects we think might be great for this project and to identify new ones. If you think that could be you, please get in touch!
This project is generously funded by the Esmée Fairbairn Collections Fund and The Headley Trust
Share this article