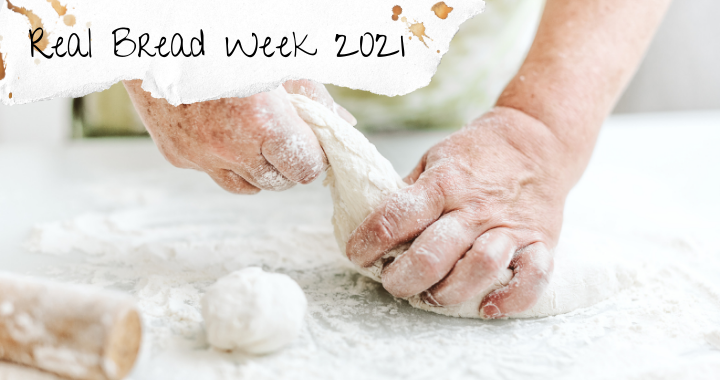 Museum staff 'prove' real bread is best.
During the 2021 lockdown, staff from the Museum of East Anglian Life in Stowmarket, Suffolk have taken to their kitchens to brush up on their bread-making skills. With plans underway to restore the onsite watermill to working order, members from across the team have been getting ready to celebrate Real Bread Week 2021 by sharing their recipes and love for this delicious food staple.
For those of you who don't know, Real Bread Week is the annual, international celebration of additive-free loaves and the people who make them. It is run by The Real Bread Campaign and encourages people to bake their own bread at home and to buy real bread from local bakeries.  Homemade bread is healthier, more affordable and doesn't include additives like much of the mass-produced bread on offer at the supermarket.
Bread has been a regular topic of conversation at the museum since last year when we received a National Lottery Heritage Fund grant of £99,200 to restore Alton Watermill – a traditional 18th-century water-powered corn mill previously moved to our site. This exciting project will regenerate the mill and create hands-on opportunities for the local community, visitors and volunteers as they get involved in the production of flour and making bread.
Amid the first lockdown in 2020, it became increasingly difficult to find flour on our supermarket shelves. This was partly due to people turning their kitchens into amateur bakeries; showing that bread has the power to bring people and communities together, even in the most testing times.
With these things in mind, we thought this was the perfect opportunity to have a go ourselves and start making bread…eating it afterwards was an added bonus. We asked museum staff to have a go at bread making and share their mouth-watering creations. It seems they were happy to rise to the challenge.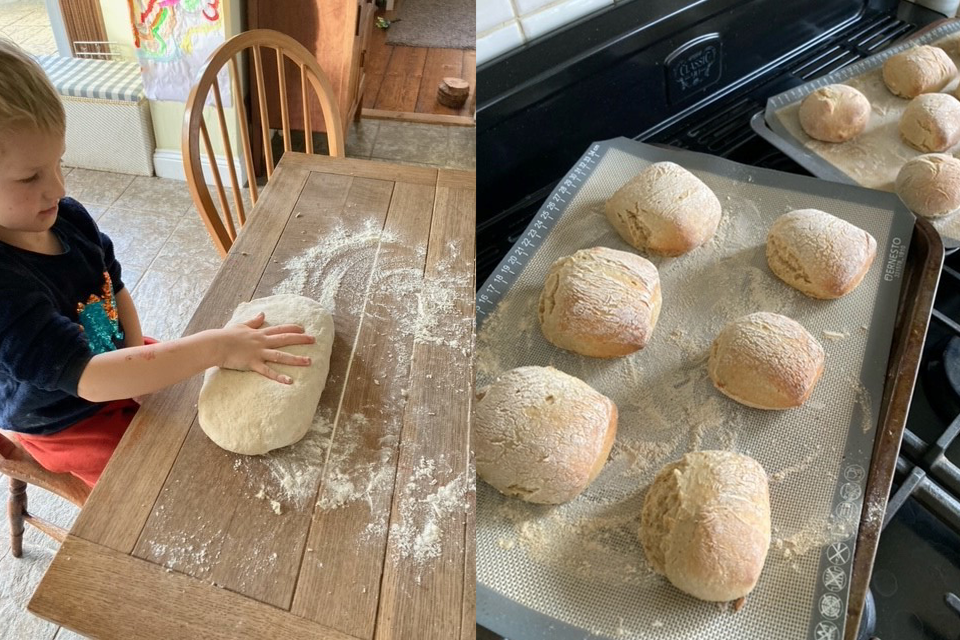 Victoria's Oat Bread Rolls
"We made these oat rolls. They were fun to make, and tasted pretty good….although I think they needed to be smaller and to prove for longer, but not a bad first attempt. They (the children) love baking and of course make a fearful mess!"
From the Very Veggie Family Cookbook: Delicious, Easy and Practical Vegetarian Recipes to Feed the Whole Family by Lisa Bjärbo and Sara Ask
Maria's Sourdough Loaf
"Homemade bread is definitely something that has become a permanent feature in our everyday life, we barely buy bread from the supermarket any more. I blame a colleague for that. About a year ago he described the bread they make at home in such mouth-watering detail that it gave me the initial push to try it myself. The first attempt was successful and I haven't stopped since then. After all, no bread is better or tastier than the bread one makes oneself. We have also discovered that a smaller amount of home-made bread gives us a bigger feeling of satiety, hence we eat less overall, which is an added bonus. That is, if we don't decide to try it while it's still hot – in those cases nothing can save it from immediate demolition."
The bread in Maria's photo is a Sourdough recipe. You can find the recipe here: Pain de campagne – French country bread – Caroline's Cooking

Lisa's Walnut and Honey Soda Bread
"It's a little darker in colour than I would have liked but the flavour was amazing and I'll certainly be making it again! It went particularly well with the broccoli and stilton soup that I had at work the next day."
The Walnut and Honey Soda Bread that Lisa made is from the River Cottage Handbook on Bread by Daniel Stevens. You can find the recipe here: https://www.yorkpress.co.uk/news/10173331.recipe-walnut-honey-soda-bread/

Moné's Alternative Banana Bread
"This is my 'alternative banana bread'. It's alternative because it is wheat-free, sugar-free and dairy-free, which have been replaced by oat flour (and a little brown rice flour), chopped up raisins (and banana, of course) and coconut oil respectively. I know hearing that may put some people off, but it really is a treat and perfect for anyone with allergies like myself or who wants to use less sugar in their baking. The recipe is something that I've sort-of developed overtime using other recipes I've come across, and fortunately, I think I've finally found a crowd-pleasing recipe."
You can download Moné's recipe here

Emily's Bread Rolls
"During this lockdown I have wanted to bake some bread and Real Bread Week was the perfect excuse. I haven't really made bread from scratch before, having used packets that have the flour, yeast and flavours already mixed in. I decided upon bread rolls. I looked online and found a recipe from Tesco's that got great reviews. I thought this was easy to follow, and easy to bake because the dough only had to be proved once. Though they ended up all being different shapes, I thought they tasted great! I have thoroughly enjoyed making the bread, and I hope to make more in the future!
You can find the recipe Emily used here: https://realfood.tesco.com/recipes/really-easy-bread-rolls.html

Ashley's Honey and Poppy Seed Wholemeal Loaf and Simple White Loaf
"I've been an avid cook since university and have always enjoyed expanding my horizons with challenging new recipes.  Making bread has long been an interest of mine. However, my interest has really ramped up during the pandemic. I currently make bread at least once a week, usually rustling up two loaves as my partner cannot stand wholemeal bread. I enjoy making bread (and cooking in general) because it gives me a chance to experiment and try new things. I also find it quite therapeutic and it helps me to relax. The one on the left is a bog-standard white loaf and the one on the right is a honey and poppy seed wholemeal loaf"
You can download Ashley's recipe here
Overall, bread making can be good fun and I think you'll agree the results look delicious. Hopefully this inspires others to try baking bread. We have included some of the favourite recipes from our staff in case you fancy having a go – go on, you know you want too!
We'd love to see the results – tag the museum in your real bread creations @MuseumEALife and The Real Bread Campaign @RealBread (Twitter) and @RealBreadCampaign (Instagram and Facebook)
It's important to remember the organisation behind the campaign. The Real Bread Campaign is run by the charity Sustain: The alliance for better food and farming. Not only do they encourage people to make real bread, they also do loads of worthwhile work for the local community. For example, by championing small local bakeries; helping people with mental health issues through baking real bread; raising awareness around additives in food, and much more! Find out more and support here: www.realbreadcampaign.org
Share this article