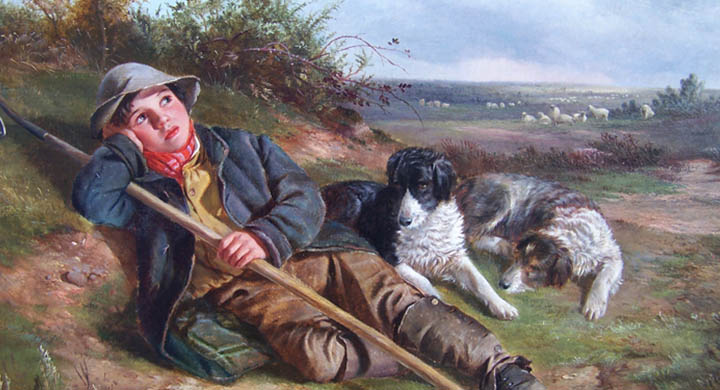 Life through the Eyes of East Anglian Artists- John Day blog
Our first exhibition blog is written by John Day from the East Anglian Traditional Art Centre, whose fantastic collection of paintings is centre-stage of our new exhibition – Life through the Eyes of East Anglian Artists. Below he details the process of framing and conserving the picture of the shepherd boy:
John Duvall's painting of the Daydreaming Shepherd Boy painted circa 1865. 
This oil painting was purchased at a country auction sale almost fifty years ago by my father Harold Day, the founder of the Day Collection. 
It features in the forthcoming temporary exhibition at the museum. The painting had never been cleaned professionally until I was preparing it for the exhibition.
This picture (right) shows the two dogs in the painting during conservation. The left hand dog and part of the second dog have had the old yellow varnish removed. As you can see, the difference between the cleaned dogs head on the left and the yellowed one on the right is quite a transformation. After treatment, a new coat of varnish was applied to the paint surface to protect it for the future.
Many of the works in the exhibition retain their original frames, often chosen by the Artists with great care, and costing a lot of money when new. The frame for the Daydreaming Shepherd Boy did not survive, so a search was started for one the right size. By 1850, picture sizes had become standardised as most canvasses were mass produced by London makers of Artists materials. Unfortunately this picture was one of the rarer sizes, the canvas being 18"x 24"or 46cm x 61cm, making a frame harder to find.
At last a frame was located which could be borrowed for the exhibition – but it was in Scotland near Aberdeen. Luckily the owner was able to arrange delivery and it arrived safe and sound. Importantly, it was similar to the design and finish of frames that have been fitted to other works by John Duvall. It fitted perfectly. This picture (below) shows the unwrapping of the frame.
The picture was carefully fitted into the frame, and with special brackets was hung in time for the opening of the exhibition. Life through the Eyes of East Anglian Artists is open until 31st March 2017 in Abbot's Hall and is free to visit.
Share this article