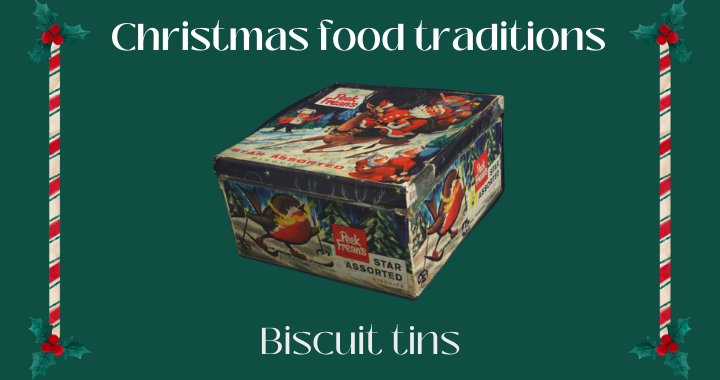 Festive Food Traditions- Biscuit Tins
It's almost Christmas! No matter how you spend it, I think we can all agree that one of the most exciting parts is the delicious food we get to eat and share with each other. To celebrate, we wanted to take the opportunity to explore the different tasty traditions we revisit year after year.
Today, I wanted to share one of my personal favourite festive food traditions; tins of biscuits, chocolates and sweets. If you celebrate Christmas, bickering over the final green triangle, or being left only with digestives, might be something you're familiar with! No matter your tin of choice, they have become a Christmas staple for gift giving, sharing with colleagues, or enjoying with friends and family. Here, I look at some of the biscuit tins in the museum's collection, and the special festive stories that go along with them.
Mrs. Wilding was a former cook at Abbot's Hall, which was once the family home of Misses V and E Longe. Mrs. Wilding lived in Crowe Street Cottages, which were formerly workers' cottages, as part of the Abbot's Hall Estate. Both Abbot's Hall and Crowe Street Cottages are now part of the museum site. During her time working in the cottages, it became a tradition that she received a tin of biscuits as a Christmas present from The Longe sisters, of Abbot's Hall. Many of these tins have since been donated to our collection, including this Family Circle tin. Family Circle, previously produced by Huntley and Palmers, Peek Freens and Crawfords, is now produced by McVities, and is still available to buy every Christmas.
As well as receiving ready-made biscuits, Mrs. Wilding also baked her own. The tin below was given to Mrs. Wilding as a Christmas present by friends. When the tin was empty, she used it to store her homemade shortbread, which she cooked using the same recipe she used when working as a cook at Abbot's Hall (1921-1929).
Mrs. Wilding's Recipe
6 ozs. plain flour
4 ozs. butter
2 ozs. ground rice
2 ozs. caster sugar
The biscuits were rolled out to a 1/2 inch thick and cut out with a pastry cutter. Each was decorated with a piece of glacé cherry before being put into the oven at 400°F for 15 minutes, the oven was turned off but the biscuits were left in for the last few minutes.
It could be argued that the growth of commercial production has resulted in fewer people making their own biscuits at Christmas, with more people heading to the shelves for ease. Despite this, yearly shop-bought biscuits undoubtedly inspire a rush of Christmas nostalgia, something which we can all appreciate.
You can see these tins and visit Crowe Street Cottages by joining one of our 'Down at the Dairy' tours, which take place every Tuesday and Thursday at the museum. Find out more here: http://localhost:8888/eastanglianlife/your-day-at-the-museum/
What's your favourite Christmas food tradition?
Written by Eve Mordue, Skills for the Future Trainee
Share this article