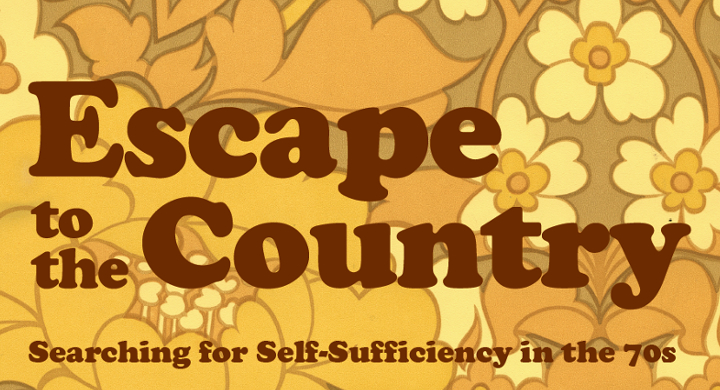 Escape to the Country- 'Searching for the Good Life'
Searching for the Good Life
Our Museum Programme assistant Eleanor Root takes us behind the scenes with the latest exhibition to reach Abbot's Hall, 'Escape to the Country'
I had a plan, a selection of ceramic shire horses, and a giant bucket of wallpaper paste. This can only mean one thing – it was time to install Escape to the Country.
This new exhibition follows the people who left the city rat race to start new lives in rural East Anglia in the 1970s.
Izzy (Project Assistant) and Lisa (Collections Manager) prepare costume for the exhibition, gloves are required when handling delicate costume items.
We're inviting visitors to explore the magic of 70s fairs, join the hunt for the Good Life and listen to totally groovy tunes. Drawing on the experiences of ex-city slickers, hippies and the locals who remember their arrival in Suffolk, the exhibition will feature 70s costume, culture and creativity.
My favourite object is the Chess Champion's Jacket from the Albion Fairs. The idea was that if you were wearing the jacket, anyone could challenge you to a game of chess (a mini-game was kept in the jacket pocket) and the winner would get to take the jacket. The book of scores and notes is on display next to the jacket and is a wonderful glimpse into the fun of the fairs.
Occupational hazard! Elle manages to attach most of a newspaper to the ladder. Who knew a crash course in DIY would be required for putting together an exhibition?!
Why not pop along to Abbot's Hall and sniff the 70s (not for the faint-hearted), get glam in funky clothes and help preserve the decade that taste forgot?
After a long day installing the exhibition, it was quite the treat to be serenaded by Museum Manager John, inspired by the Bob Dylan records in the exhibition John pays homage to his hero! 
The Museum is planning a series of themed events and activities this spring and summer. Why not join them in celebrating the 70s? Look out for more info on our website.
Share this article