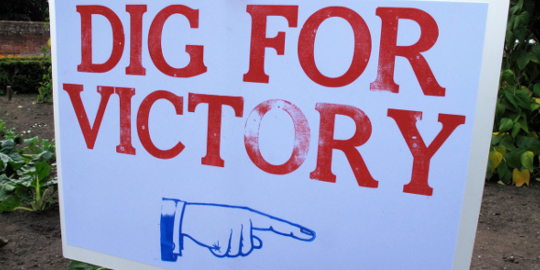 'Dig for Victory!' Abbot's Hall Walled Garden, September 2013
September in the Walled Garden saw the Museum's 'Countryside at War' day, and visitors were encouraged to 'Dig for Victory' – demonstrating the importance of vegetable growing during wartime. Myself and fellow gardener Sue dressed as land girls and issued stickers to those keen to dig potatoes in a bid to help feed the nation!
Elsewhere in the museum demonstrations included drill practice, threshing and learning how to put out fires. This fantastic day out was sadly dampened by wet weather, but those who came really enjoyed it.
This month the Walled Garden has definitely seen a slow down in the amount of vegetables being harvested as the beans, courgettes, potatoes and kohl rabi have all finished. But there is still plenty to come as second sowings of beetroot, carrots, chard, and radishes are now ready. These radishes are almost fit for a prize at a local show – an heirloom variety called 'Sparkler'. The pound coin helps show off the size of these beauties!
Gourd'n Bennett!
Natalie and AJ (pictured above) harvested a bumper crop of gourds this month. The assorted sizes, colours and textures make these ornamentals a real feast for the eyes.
There have been lots of suggestions as to their possible uses which include table or mantle–piece decorations, drying them to make a maraca or rattle, creating a bird house, cutting them in half, hollowing them out and drying them to make a bowl and of course if all else fails – to make a silly face (someone even suggested sticking on those wiggly eyes!)
September is a great month to start preparing a new bed or border, with the soil becoming more workable and some warmth still remaining, enabling the good establishment of plants. There are many areas of the garden I wish to develop but for the time being we are concentrating on the cutting border. This is a dedicated border filled with both perennial and annual flowers, grown solely for the purpose of cutting. It will run along the south facing wall which has to date been a swamp of goldenrod (or Solidago to give its official name) and ground elder (Aegopodium podagraria) among other things. First we dug out any plants worthy of keeping and heeled them in to a trench prepared by our chief trench-digger Nathan. We have now started the unenviable task of digging out the ground elder, making sure that all roots are taken to the bonfire rather than the compost bin, in an effort to eradicate this pernicious weed.
Lucy Skellorn
Heritage Garden Intern
Share this article