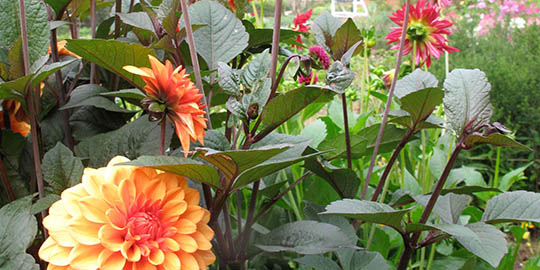 'Darling Dahlias' Abbot's Hall Walled Garden, August 2014
Diverse and colourful this month, the Dahlias have looked divine. Whether cactus, collarette, pompom or honka varieties, there is something for everyone. Persisting until the first frosts they have excellent late summer colour when many other garden plants are past their best. At Abbot's Hall Walled Garden we grow several varieties for cutting. Pictured is one of our favourites – the dark-leafed, orange-flowered 'David Howard', which is stunning in arrangements.
Chosen by the expert eye of one of the gardens' volunteers Terry (an ex flower-arranger) seen below, these lovely bouquets can been purchased from our Walled Garden stall outside the cafe.
While the soil and weather conditions still allow, Francis has been busy sowing both crops that can be harvested over the next couple of months as well as those that will carry on over winter. As soon as one crop has finished and space has been created, Francis has been sowing salad crops including spring onions, spinach, radicchio, lettuces and spring cabbages.
Celariac, Apium graveolens is a root crop and a member of the Celery family. Delicious in soups, stews and as mash, it's a great vegetable – harvested from October to March. As the plants mature the outer leaves must be removed. This exposes the crown, allowing it to develop and swell. Here, Tom de-leafs the Celariac, the root now becoming visible above the ground.
This month we have finally finished a job which has been long overdue…the building of new compost bays. As anyone with a garden will know, you can never have enough compost, and if you have an organised, spacious system to deal with garden waste, all the better. Using recycled materials from the museum site we have created four large new bays, with plans for a further two for leaf mould. Some thoughtful signage is still needed, but the bones are there, and I for one am very excited! Thanks go to Paul and Richard on the estate team for helping me put these together.
Look out for the 'Dig For Victory' signs on our Countryside at War Day on Sunday 14th September. Francis and I will be digging in the garden and would love visitors to help us harvest the last of our heritage potatoes. Look forward to seeing you there!
Lucy Skellorn
Heritage Garden Intern
Share this article