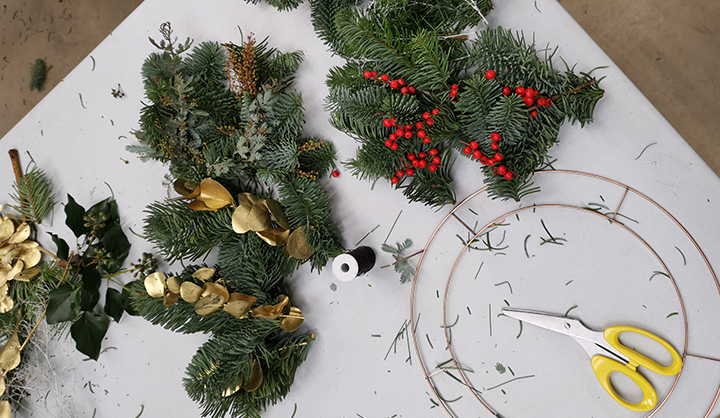 Crafty Christmas
We're a creative bunch here at the museum and Christmas gives us the perfect excuse to get crafty. Aside from developing skills and making nice things, craft has many health and wellbeing benefits- it is proven to reduce stress and alleviate the symptoms of anxiety and depression. Kirsty Allsopp, from popular TV shows such as Keep Crafting and Carry on and Kirsty's Handmade Christmas, encourages us to get creative, saying 'Crafts can have a positive effect on your mental health'.
We talk to some of our museum staff about their love of craft and some of their latest festive ventures.
Our wonderful Curator, Kate, is a keen crafter in her spare time and enjoys the wellbeing benefits of crafting, she says "I really enjoy crafting because it is a way for me to use my creativity and focus on something."
Kate recently took part in a Christmas wreath making workshop here at the museum and enjoyed learning a new skill from a professional.
"Even though I have made my own wreaths before, I didn't realise how easy it was to make one that looked professional if you do some planning in advance – my usual attempts are much messier! It's actually quite a mathematical process. Kim, from Romeo and Succulent, showed us how to divide the ring into 5 sections, designing 5 different bunches of foliage which will be repeated 5 times and attached around the wreath with wire. It was a great workshop and I'm so happy with the result."
Lisa, our Collection and Interpretations Manager, is a needlework pro and enjoys crafting because it allows her to escape.
"Crafting is my happy place. It's my place just to let go of everything that's going on in my head- good, bad or indifferent and just lose myself. You need to have something that just makes you relax."
Lisa's patchwork Christmas tree, made from different pieces of fabric, usually makes an appearance at the museums Christmas Tree Festival but is taking pride of place at home this year.
"I made a patchwork Christmas tree using up all sorts of bits and pieces of fabric. The decorations hang on buttons and each year I make a different selection of decorations to hang on the tree, normally depending on what the theme is for our Christmas Tree Festival that (usually) takes place in Abbots Hall. What's been particularly nice this year is that I've been able to select from all the decorations I've got and have it up at home- It's got a crochet mince pie on it, felt gingerbread men, a little plastic snowman, a little patchwork star- you name it, I've probably got a decoration made of that technique!"
Sally, our Audience Development Officer, enjoys crafting all year round but especially at Christmas when she has a purpose for doing it:
"Christmas is a great time to craft because it's easy to think of lots of things to make…cards, decorations, presents. I also like giving someone something I've made. Sometimes I think it's nicer than giving a present or gift you've bought, even if it's just a card because time, thought and love has gone into it."
"Every year I make a new lino print design to give as Christmas cards to friends and family. I like using lino because it is simple but looks effective and the cards are so easy to reproduce – you can just print another one out if you've missed someone off your Christmas card list."
We even have some Christmas crafts in our collection. Check out these colourful baubles which were made by a local crafting group and added to our collection in the 1970s.
You can view them online here: http://localhost:8888/eastanglianlife/collections/search/?eHive_query=%22STMEA%3A2010+-+251%22
Share this article