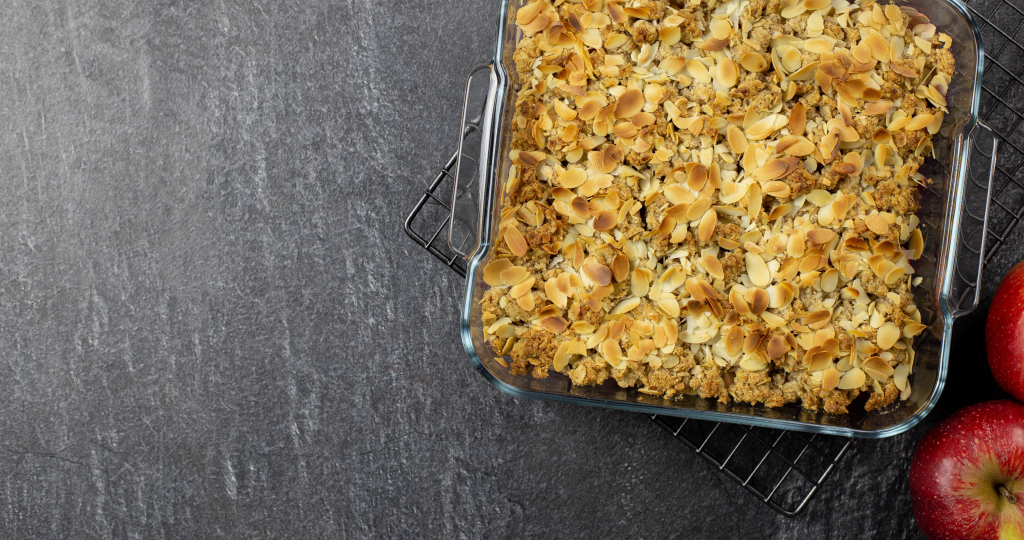 More than Apple Crumble: Recipes for Apple Day 2021
At this year's Apple Day celebrations we're relishing in all the delicious ways you can prepare this incredibly versatile fruit! We're overjoyed that food historian and writer Monica Askay will be joining us to sign copies of her book Orchard Recipes from Eastern England: Landscape, Fruit and Heritage. She'll be sharing her knowledge of Suffolk's rich agricultural history and the recipes that evolved out of the landscape's diversity of food and produce.
We'll also have traditional recipes from our collection on display, and opportunities to learn about the way people have cooked with and used their local orchard produce throughout history.
However, the day won't be complete without… you. The recipes that nourish you. The chutneys that you cherish and the crumbles that have you coming back for seconds.
Whether family recipes passed down from generation to generation, your own unusual culinary invention, or the recipe for a perfect apple pie that you found scrawled on a piece of paper down the back of the kitchen cabinet when you moved in that changed your life forever. Whatever the story behind your favourite apple dishes, be they dinners or desserts, savoury or sweet, we invite you to bring a copy along and contribute to our collaborative display on the day. Share a part of your food story with the community, and maybe discover some new recipes – you never know, you might find your new favourite!
"Why Apples?" Fruit Identification and Food Heritage at Apple Day 2021 
Did you know that there are 2,500 types of apple in the UK?  This is why apple day exists. Established in 1991 by Common Ground London, Apple Day is a way to celebrate and raise awareness of the vast variety of apples and fruit grown locally and across the country. The more people who understand how to recognise and look after different types of apples, the better chance
... Read more »
Discover apple wisdom, fruit facts, and orchard expertise in abundance imparted by the wonderful Monica, as well as specialists from the Suffolk Orchard Group running Apple Identification, and our own orchard tours. You'll leave with the confidence of knowing just what kind of apple or fresh fruit to use for which recipe – and we hope you'll be eager to try some of the recipes you come across on the day and share them with us on social media! Either tag us on Instagram or Twitter @museumealife, message us on Twitter, Instagram, or Facebook, or email us at contact@foodmuseum.org.uk with a photo of your mouth-watering apple creations (and if you're happy to share it, the recipe you followed) – and feel free to get involved over the next week before Apple Day arrives.
Let's kick things off with a recipe for Fruit Crumble that was discovered in the attic of our very own Abbot's Hall. The simple (some might say vague) recipe dates from the mid-20th century and can be made with all kinds of fruit – although of course we recommend using apples!
Fruit Crumble
6 or 8 oz plain flour
3 or 4 oz margarine
3 or 4 oz sugar (dem)
Rub marge into flour until like breadcrumbs. Then mix in sugar with spoon. Pour mixture onto fruit. Press down with fingertips. Bake centre of oven at Gas mark 3 about 350 to 400
Don't be put off by the lack of specific measurements or timings; think of it as a Bake Off technical challenge, use your intuition, and remember to share your completed crumbles (and any other delicious Apple Day delicacies) with us on social media. Don't worry if it's a disaster, either: you'll have the chance to learn lots of brilliant recipe tips and many more delicious ways to use apples at the museum on Apple Day.
We can't wait for you to share your apple creations and recipes with us!
The museum's Apple Day runs from 10am – 4pm on Saturday 23rd October, and entry is free (included in normal museum entry).
Share this article