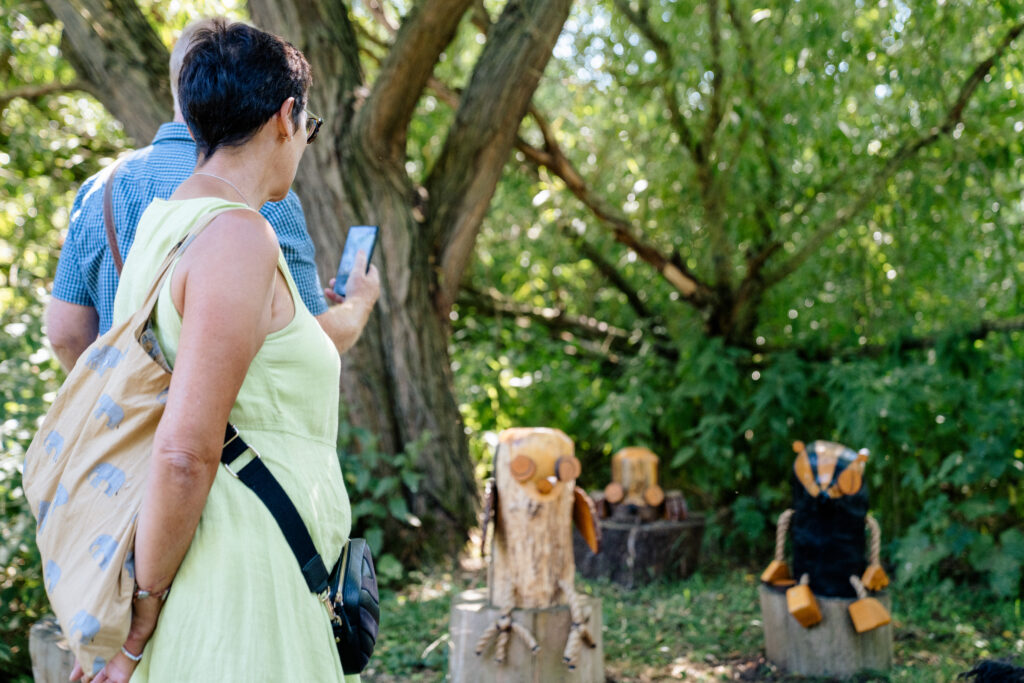 The museum looks after a 1.8km stretch of the River Rattlesden, also known as the River Rat. Its source is near Felsham and it joins the River Gipping in Stowmarket.
In spring 2022, we unveiled a series of sculptures inspired by the natural world along a 1km pathway which meanders along the river. This sculpture trail was created as part of the 'River of All' project funded by the ScottishPower Foundation.
Lois Cordelia – Web of Life
A spectacular and intricate three-dimensional spider's web spans several metres and rewards exploration. The impressive wire sculpture design symbolises the interconnectedness of living things through a food web, with a specific emphasis on the rich biodiversity of the river valley. Lois's video about the sculpture can be seen here
'It's made of wire and food-related items. Wire represents the interconnectedness of all things. Metal cutlery and kitchen utensils emphasise the theme of food in reference both to the food web and the Food Museum.'
About the artist: Lois Cordelia has sculpted using wire for nearly 30 years. https://www.loiscordelia.com/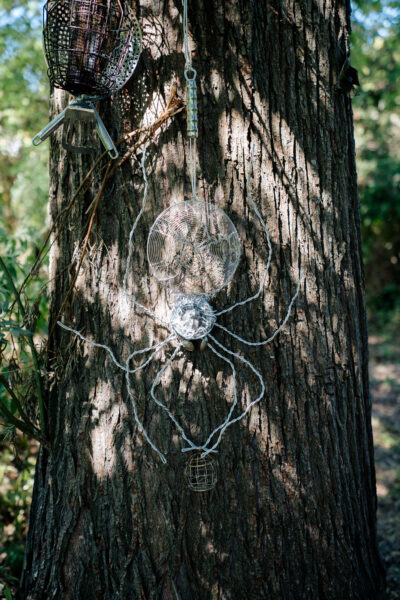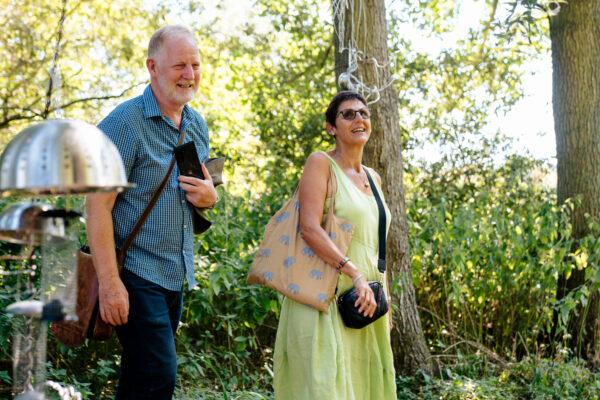 Aaron McDermott – Buzzard
Discover a life size buzzard made from pieces of found forest wood supported by a metal internal frame. Thin copper sheeting reinforces parts of the main body and wing and bark reinforced with natural resins acts as feathers. Suspended in a large tree along the trail, the sculpture is a mixture of a representation of a buzzard in flight and the workings of the anatomy of the bird. The gnarly wooden pieces accompanied by bark, carved wooden talons and a metal support structure sit harmonious with the surrounding forest while having a unique presence, much like that of the illusive buzzard itself.
'As the sculpture ages the copper will oxidise, the wood twist and change colour. It will take on its own life among the forest.'
About the artist: Before becoming a sculptor Aaron McDermott worked in the art world within a natural history museum and an art gallery. https://www.facebook.com/AaronMacDermottArt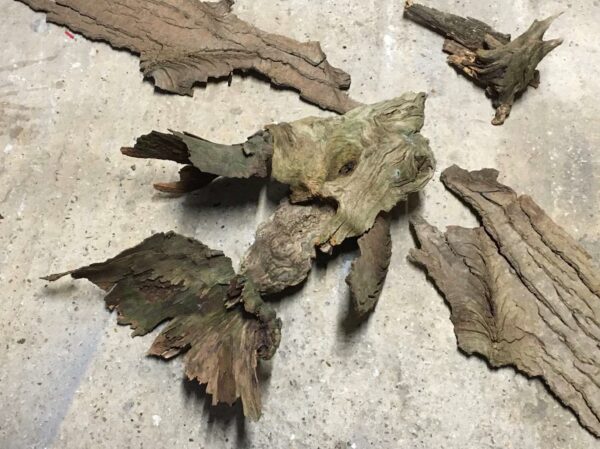 Spadge Hopkins – Birds
Five slightly larger-than-life steel sculptures of four birds, native to the trail. They can be spotted flying or perched along the fence line of Kiln Meadow on the other side of the river.
'The pieces are given added interest by the shadows they are designed to create, not one but two art pieces are created here, one the sculpture in itself, and two, the play of light upon it and the shadows thus created.'
About the artist: Spadge Hopkins has been has been producing varied work since the 1980s. He is currently exploring silhouette and shadow and producing 3D visualisations of animals and birds from relatively thin metal. Spadge's fascination and love of birds inspires his work in metal.  https://www.spadgehopkins.co.uk/
Joella Gardner – Dragonfly
A dragonfly sculpture constructed from willow and other natural materials, such as soil and leaves, gathered whilst exploring the river walk. The presence of dragonflies are a good sign of ecosystem health, meaning that the area has stable oxygen levels and clean water.
'As an environmental artist, creating ecological responsible artworks is something I am particularly interested in, therefore the materials used to create this work are carefully considered. Ideas around stability and balance have influenced the overall design and concept of the sculpture, which imitates the form and movement of traditional balance scales.'
About the artist: Joella Gardner's process-led practice is based on a personal engagement with nature and sustainability. Gardner's process and material selection have increasingly been influenced by humanity's damaging effects on the vitality of the Earth. In a world that is already overpopulated with permanent objects and materials, her current practice actively embraces transience. https://www.joellagardner.co.uk/
Kazz Morohashi – Woodland Animals
A collection of carved representations of woodland animals using found wood. Sitting in a semi-circle around a central 'campfire' on wooden stumps, characterful woodland creatures welcome visitors to take a seat, listen and connect with nature.
'I wanted to create an occasion for visitors to slow down and listen, look around, smell and feel the space in a more conscientious and heightened way. I also wanted to capture the area as being home to a whole host of species and we need to be respectful of that. I hoped to express this through the creation of a meditation circle. The act of offering a piece of natural element found along the trail is almost like a ritual for people to mark that special connection with nature. The interactive aspect is reflective of my Japanese cultural practices of nature worshipping and meditation, although the practice is universal and resonates with other world cultures.
About the artist: Kazz is a multidisciplinary artist, visual designer and user experience researcher. She works in 2D, 3D, analogue and digital to create stories and experiences that promote interactions with people. Her work is playful in nature and has a certain tactile feel. www.kazzmorohashi.com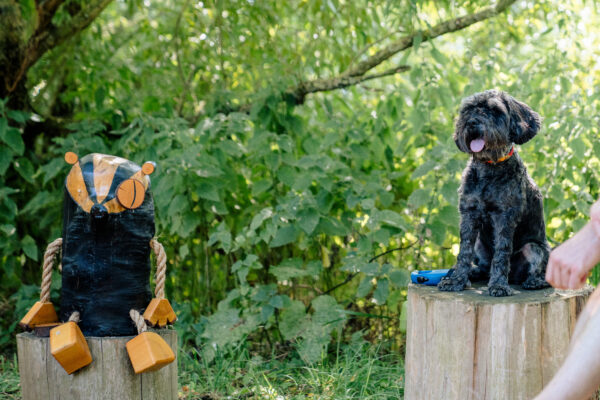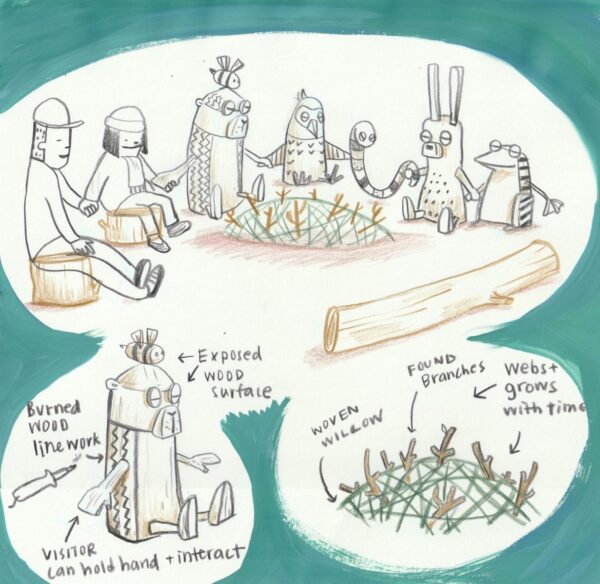 Stephanie Hartick – Decomposers
Hunt high and low for this series of ceramic sculptures looking closely at decomposers, which play a fundamental yet under-valued role in soil health. The sculptures magnify and interpret patterns and interactions of fungi and mycorrhizal networks, both seen and unseen, in maintaining a dynamic bio-diverse system, contributing to balanced healthy food chains. Most of the fungi are exhibited in their natural positions so a keen pair of eyes will be needed to spot all!
'Soil is often overlooked as living matter and the value that soil and decomposers play to maintaining habitats and sustaining food chains is under-valued. Many of our decomposers are threatened by human activities and I aim to raise awareness of this through the sculptures.'
About the artist: Stephanie Hartick is a ceramic artist and a co-founder of Art Branches. https://artbranches.org/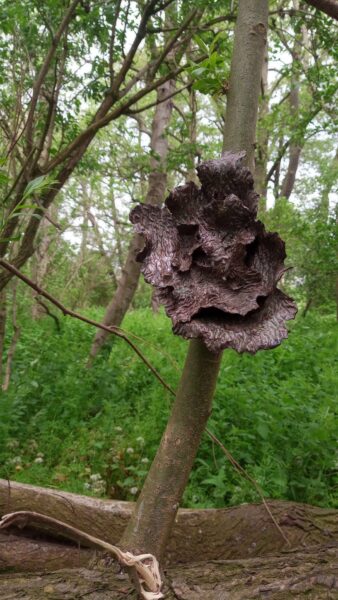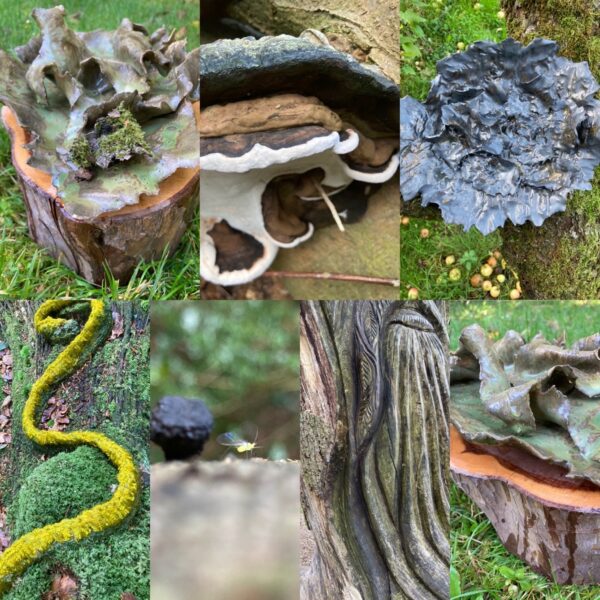 Elizabeth Cooke – Bats
Keep your eyes peeled for bats made from steel which hang from a fallen tree. The sculptural bats will awaken your interest in the shapes and movements of these elusive creatures. Verging on the abstract, the bats are made of steel and other found materials.
'Bats have had a particularly bad press of late and is an animal that is hard to spot in the wild. When you do spot one, it is often only a fleeting glance.'
About the artist: Elizabeth Cooke is a sculptor who works mainly in steel. 'The natural world is my inspiration for subject matter and there are themes to which I frequently return: repetitive patterns and decay, crows and herons.' https://elizabethcookesculpture.wordpress.com/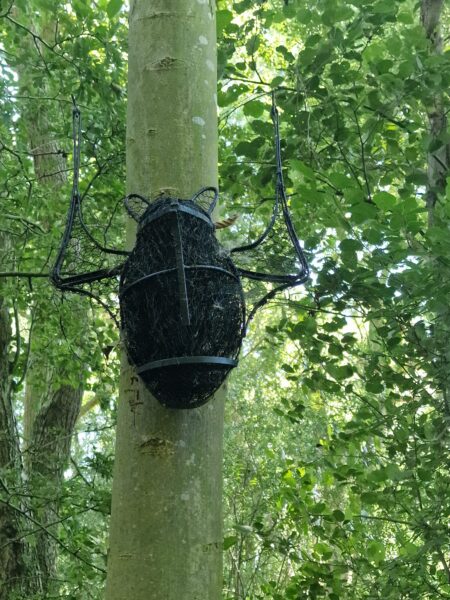 Larry Jackaman – We 'CAN' all make a difference
Reusing drink cans from the museum's recycling bins, this sculpture is made up of individual aluminium cells, representing the cells that make up all living organisms, embossed by the artist and members of the public at workshops held in 2022. The embossed cells cover a dead tree; layered like feathers of a bird, scales of fish and those of a snake. The artwork is designed to create awareness of the wealth of nature present at the Food Museum, to demonstrate how long it takes for aluminium cans to degrade naturally and the importance of recycling.
'It is intentional that the shiny aspect of the aluminium stands out against its natural surroundings to act as a statement that it is man-made, that things can be reused and to demonstrate visually how long it takes for aluminium cans to degrade naturally.'
About the artist: Larry Jackaman has strong environmental ethics and a passion for using recycled material, particularly glass and commissions include 'The Green Bottle Unit' in Hackney.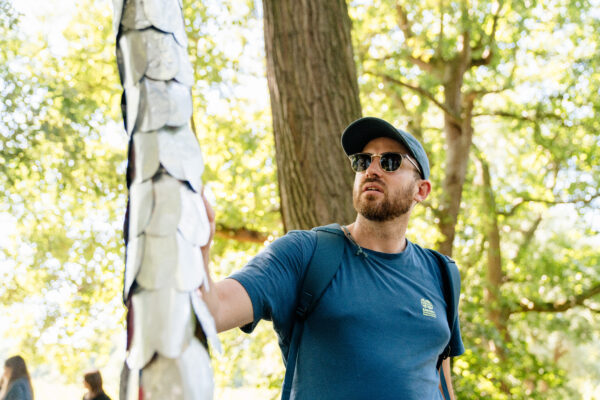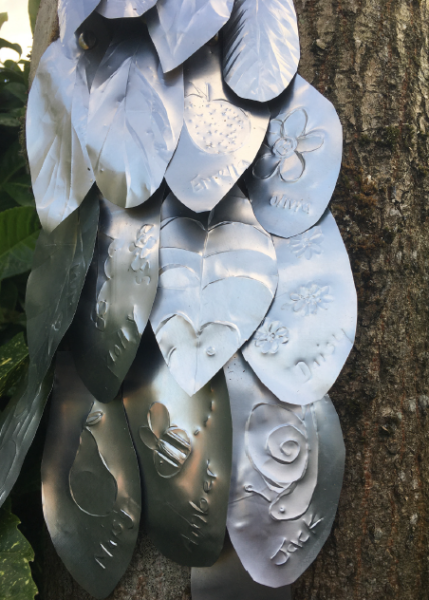 Elizabeth Cooke – Muntjac Deer
Find two, larger-than-life Muntjac deer in willow. The softness of the willow allows them to blend in with their surroundings in the wooded area, camouflage being an important part of their survival.
'My work creates lifelike sculptures with a sense of movement. They are not slavish, precise replicas, but my own interpretation.'
About the artist: Elizabeth Cooke has exhibited her willow work widely, including the popular roundabout crown in Bury St Edmunds. https://www.larkvalleywillow.co.uk/