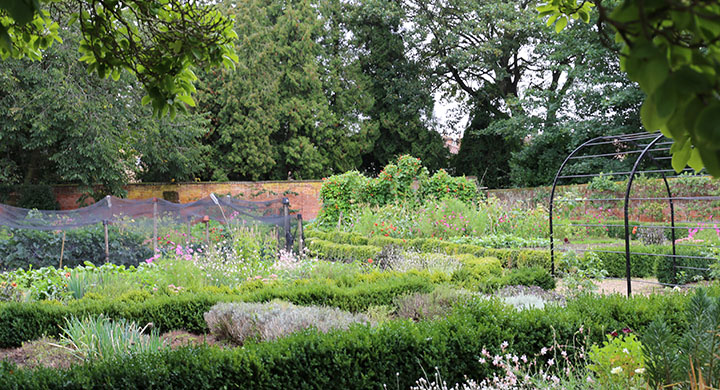 Soil Solace: Gardening through lockdown
There's no doubt that the restrictions of lockdown gave many people a renewed appreciation of nature and the outdoors. I am amongst the many people who applied for an allotment during this period, contributing to up to a 500% increase in allotment applications in some areas of the UK. Coronavirus has encouraged many people to seek their own slice of 'The Good Life'.
At the museum, our walled garden relied solely on the commitment of three green-fingered volunteers throughout lockdown. Thankfully, the garden at the museum fell under the same guidelines as allotments, meaning our volunteers were still allowed to visit. Heather, Sean and Marion all came in twice a week to look after the garden whilst the museum was closed and through their hard work, we've seen it flourish with beautiful flora, wildlife and a variety of fresh fruit and vegetables. I spoke to volunteer Heather about the benefits of volunteering in the walled garden during these months.
"It was lovely" explains Heather. "We never saw a soul, no distractions. It was lovely actually, really nice. We thoroughly enjoyed it, it is so quiet down here, and there was nobody mowing the grass or anything like that. We came in two days a week, three of us, all the way through- I don't think any of us had a day off. I still haven't had a day off. We're glad we came in, because, if we hadn't, we think it may have taken three years to catch up"
It is widely recognised that being outside and surrounded by nature has many health and wellbeing benefits. Gardening is known to improve mood, relieve stress and anxiety and boost self-esteem. A recent National Trust poll found that 38% of adults said that spending time in nature was the moment they looked forward to most each day during lockdown. Heather reflected on how being surrounded by nature and being around her fellow volunteers (from at least two metres away) helped her through this time.
"Yes, it did all of us (help us). I've only got a small garden so that didn't need a lot doing to it. So yes, two days a week up here definitely helped. I felt safe in here- safer than anywhere else apart from home. There were literally the three of us and I felt okay with that because we were a good team and we really knitted together and got quite close."
And there were other benefits that came with working in the garden during lockdown…lots of fresh fruit and vegetables.
"The early potatoes, we weren't open so we took them home. It was lucky actually because we were getting fresh veg. I only go shopping once a week and you buy the veg at the beginning of the week and even if you put it in the fridge, by the end of the week it's not great. To have fresh veg, it was lovely, it really was and we just took what we wanted because otherwise it just goes to waste".
The work that the volunteers have put into the walled garden during lockdown is clear to see, even as we move into the Autumn months. Make sure you pop in next time you're visiting the museum and there are still lots of seasonal vegetables available to buy in the museum shop.
On behalf of the museum, I'd like to say a big thank you to all the volunteers that came into the museum during this period.
If you have experience in gardening or horticulture and are interested in volunteering in the walled garden, please CLICK HERE.
Sally Dix, Skills for the Future Trainee
Share this article