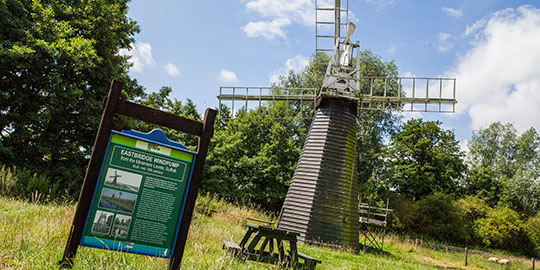 Museum receives grant towards restoration of iconic Eastbridge Windpump
The Museum of East Anglian Life is celebrating a grant of £250,000 from the DCMS/Wolfson Museums and Galleries Improvements Fund. The grant will allow the museum to restore Eastbridge Windpump to working order and allow visitor access inside for the first time.
The grant will enhance the museum's new Heritage Farm which is launching in May this year, and create new interpretation across the site and new paths to improve access for disabled visitors and families with buggies.
Jenny Cousins, the museum's director, said: 'We are beyond thrilled that we are going to be able to restore this iconic building which is much loved by local people. We will be working with a millwright to bring it into working order so that we can explain its connection with the story of food in our new Heritage Farm.'
Eastbridge Windpump drained the Minsmere Levels near Leiston and was rescued in the 1970s when it fell into a state of disrepair and was re-erected at the museum. It has since become adopted as a symbol of the local area and used as the logo for neighbouring Abbot's Hall Primary School. A recent condition survey identified restoration work as critical and therefore the DCMS/Wolfson grant will ensure the survival of this key exhibit for a generation.
Minister for Arts, Heritage and Tourism Michael Ellis said:
"Our museums and galleries are among the best in the world and we are rightly proud of these institutions. The DCMS/Wolfson Fund demonstrates how the government and philanthropic organisations can work together to boost our museum sector.
"We want people up and down the country to enjoy culture and heritage wherever they are. The 35 grants awarded today will make important contributions towards improving the visitor experience; ensuring our wonderful collections are open to as many people as possible."
Paul Ramsbottom, Chief Executive of the Wolfson Foundation said:
"We are delighted to provide this funding through our longstanding partnership with DCMS – an excellent example of how we as a charity can work together fruitfully with the government. We are grateful to DCMS for matching our funding.
 "One of the great treasures of this country is the sheer quality and range of our heritage collections – stored and displayed in wonderful museums and galleries. This funding will help to provide even better visitor experiences and greater awareness of these fascinating collections. A particular joy of this funding round has been the impressive mix of the projects supported: from a dress collection at Carlisle's Tullie House to temporary exhibition space in Falmouth's National Maritime Museum."
About the DCMS/Wolfson Museum and Galleries Improvements Fund
This is the thirteenth round of a joint fund which DCMS runs in partnership with the Wolfson Foundation. The fund aims to provide capital funding for museums and galleries across England to deliver projects in one or a number of the following key areas:
Material improvements to the display and interpretation of collections, in both permanent galleries and exhibition spaces
Improvements to access and/or interpretation for visitors with disabilities
Physical improvements to public spaces to enhance the visitor experience
Improvements to environmental controls, collections storage and conservation facilities to enhance the care of the collection
About the Wolfson Foundation
The Wolfson Foundation (www.wolfson.org.uk) is an independent charity that supports and promotes excellence in the fields of science, health, education and the arts and humanities, including awarding the Wolfson History Prize, the UK's foremost history prize.  Since it was established in 1955, over £900 million (£1.9 billion in real terms) has been awarded to more than 11,000 projects throughout the UK, all based on expert review.
Share this article