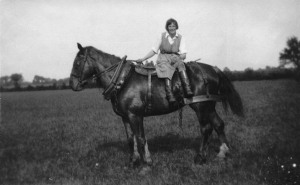 International Women's Day
Today is International Women's Day, so what better way to acknowledge it that to celebrate the influential and brilliant women we chose as guests for our fantasy dinner party in Abbot's Hall. There is a seriously large amount of girl power around this table!
Mrs Isabella Mary Beeton 1836-1865
When you think of Mrs Beeton what do you think of? A plump, middle-aged women? A flour-covered apron? An image of Mrs Beeton has been perpetuated over the years that is a far cry from who she really was, in fact Mrs Beeton was just 26 when her Book of Household Management was published, and she died aged just 28 with no knowledge of just popular her publication would prove to be.
From 1859-1861 Mrs Beeton wrote a monthly supplement in the English Woman's Domestic Magazine, which her publisher husband Samuel Beeton had set up in 1852. Ground-breaking use of clear and exact lists of ingredients, amounts, contemporary 'costings' for each meal and colour plates to illustrate each finished dish set a standard. Pick up any cook book today, and you'll see Mrs Beeton's legacy on each and every page.
Mrs Beeton wasn't a chef, nor a cook, many of her recipes came from other publications; instead we celebrate her as a pioneering food writer and journalist.
Lady Eve Balfour 1898-1990
What did you want to be when you were 12 years old? Did you go on to do it, and not only do it but change it for the better? This is precisely what Lady Eve Balfour managed, when she decided she wanted to become a farmer at just 12, becoming one of the first women to take a degree in agriculture when she enrolled at Reading University College in WW1.
By 20, Eve Balfour was running a small farm in Monmouthshire as well as looking after a team of Land Girls. At 21 she had used her inheritance to buy her own farm, New Bells Farm at Haughley with her sister Mary. It was here that Lady Balfour would conduct the 'Haughley Experiment.'
Putting organic agricultural concepts to the test by conducting the first side-by-side, long term scientific comparison of organic and chemical based farming, Lady Balfour would later publish her results in the best selling Living Soil, promoting organic farming. She was also one of the founders of The Soil Association in the 1920's which is still the UK's leading organic food and farming organisation.
And if all of that wasn't amazing enough, Lady Balfour also wrote detective novels and was part of a dance band. Quite the lady!
Lady Grace Briscoe 1881-1973
A woman who is probably better known for her archaeological career, Lady Briscoe also found time to become a Bachelor of Medicine (M.B), a Bachelor of Surgery (B.S), a Fellow of the Society of Antiquaries (F.S.A) and held the office of Justice of the Peace (J.P) for Suffolk in 1937. As well as one of a group of female surgeons who helped to pioneer the use of radiotherapy in the treatment of cervical cancer.
Lady Grace Briscoe was also the West Suffolk Women's Land Army Chairman during WW2, and we recognise not only Lady Briscoe, but also all of the women who served in the Land Army, ensuring Britain's self-sufficiency during the War. By 1944 there were over 80,000 members of the WLA, all playing an incredibly important role.
Lady Caroline Cranbrook 1935-
The last in our selection of inspiring women is Lady Caroline Cranbrook, who ran a 750 acre arable farm between 1976 and 1997, before becoming a well-known campaigner for local shops and producers.
Taking on Tesco's is presumably quite the challenge, but this precisely what Lady Cranbook did in 1997 when she campaigned against the construction of a Tesco's store in Saxmundham, researching its impact on local food producers and shops, Tesco's were for a time defeated. The legacy of this was that the area bucked a national trend, seeing an increase in the number of small food shops and local producers. As well as seeing the set up of the annual Aldeburgh Food and Drink Festival, Lady Cranbook is also involved in organisations such as the Suffolk Punch Trust, the Country Land and Business Association and Tastes of Anglia.
In 2006 Lady Cranbrook was awarded an OBE for her services to the red meat industry, after she campaigned to the government to change its method of charging for meat hygiene inspectors in local abattoirs.
An amazing collection of women to celebrate this International Women's Day, and of course we have that guest spot at the table which has so far only been occupied by men! So come and show your support to the great women of East Anglian Food and Farming with your suggestions as to who could be next at the table.
Share this article