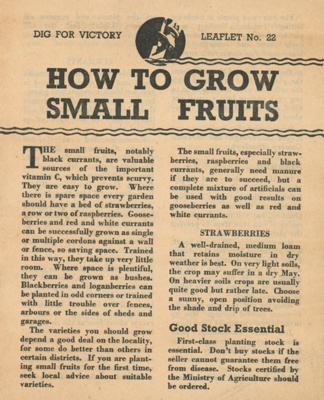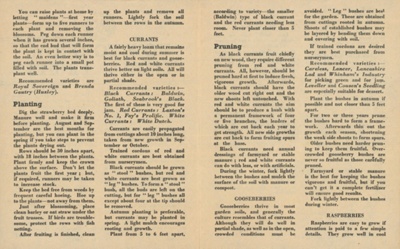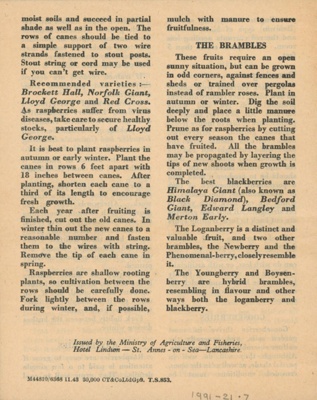 Name/TitleWartime leaflet
About this objectThis leaflet was issued as part of the 'Dig for Victory' campaign in the second world war, by the Ministry of Agriculture and Fisheries. This is Dig for Victory leaflet No. 22. It has an illustration at the top centre which shows a boot on a garden spade. This leaflet is about how to grow small fruits such as strawberries, currants and gooseberries. There is also a section dealing wit pruning. The print is in black ink on white paper which is now yellowed and creased.
The leaflets were left in a tin in the donor's father's shed but probably belonged to the donor's grandfather. He grew vegetables at the house and he probably also had an allotment.

Stewart Murphy, Research volunteer:
These leaflets are from the Dig for Victory campaign, a propaganda campaign which was designed to increase the availability of food while also keeping civilian morale high. They contain instructions and advice to help members of the public adopt animal husbandry and farming, to supplement rationed foodstuffs.

This collection of leaflets was discovered in a tin in the donor's father's shed, but probably belonged to the donor's grandfather. The owner of the leaflets grew vegetables during the war and probably also had an allotment. The general wear and tear on these leaflets indicates that they were handled with some frequency. Marks have been made in pencil along the side of an allotment plan, perhaps indicating which vegetables he had decided to grow that year.

Large amounts of land were turned over to cultivation, but growing vegetables at home could be difficult. Mistakes could lead to crop failure, as could inclement weather. He, like many others, may have used these leaflets as reference material throughout the war and in later life. These particular leaflets were used in Ipswich, but the campaign had both a national and a global reach. It is likely there were also sentimental reasons to keep them, as mementos of the war.
MakerThe Ministry of Agriculture, Fisheries and Food
Maker RoleIssued by
Medium and MaterialsPaper
Inscription and MarksTitle: HOW TO GROW
SMALL FRUITS
At top of leaflet DIG FOR VICTORY No.22
MeasurementsLength: 157 mm
Breadth: 126 mm
Object Typeleaflet
Object numberSTMEA:1991-21.7
Copyright Licence

Attribution - Non-commercial (cc)