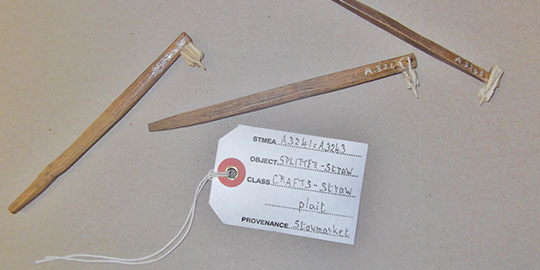 Collections and Interpretation blog: Splitting Straws
Collections and Interpretation intern James, has written a blog about a rarely-seen object from our collection.
Featured Object: Corn/Straw Splitters
Following our meeting, the Collections Manager decided it would be fun for me, as the Collections and Interpretation intern, to shed a bit of light on some of the more rarely-seen objects in the Museum's collection. From nearly 40,000 objects, my first choice is the first collection of objects I handled at the museum and which are, at first glance, no more than a few sticks in a very big box. Even knowing they were corn splitters I was none the wiser as to how they worked or what their product was used for. An internet search for "corn splitters" returned links to pictures of kitchen gadgets for removing sweetcorn from the cob.
It turns out that the Museum's straw splitters perform an even more delicate job and that their story ties in with British agricultural folklore and pagan (pre-Christian) beliefs. Our straw splitters possess a head made of bone, which has been carved to give several blades arranged around a central point. This point is placed in the end of the straw and is driven downward, splitting the straw into several strands as it goes. Why? To create something called a corn dolly as part of harvest celebrations.
The tradition of making corn dollies stretches back to pre-Christian Europe, and they tend to be hollow shapes plaited using the strands of straw, more recently created using the splitter. The dolly is woven from straw taken from the final sheaf of the harvest and is said to provide a home for the Spirit of the Corn over winter. The dolly is then ploughed into the first furrow of the season to return the spirit to the soil ready to protect the crops and provide a good harvest in the coming season. There are also some corn dollies on display in the museum, in Home Close.
Share this article