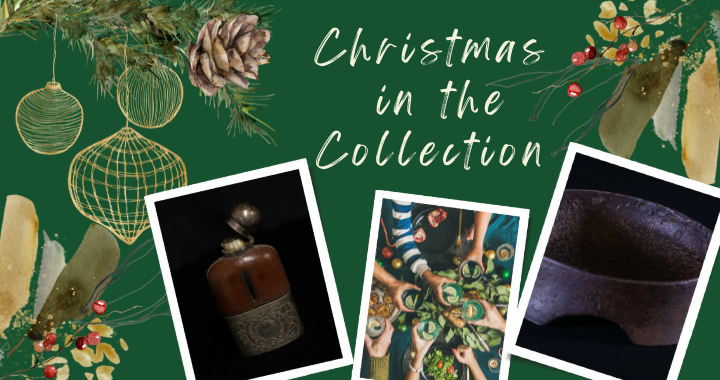 Christmas in the Collection 
Christmas in the Collection
The Museum of East Anglian Life is fortunate to have a wide and varied collection, from which so many stories can be told. Perhaps you would be surprised to know you that can find a taste of Christmas in the Museum's own collection, so let us explore some of the objects which have a festive tale to tell as the celebration draws near.
Left: Chestnut roaster from the Museum's Collection, STMEA:81.A.3.2. Right: A Christmas Poster, 1892, from the Museum's Collection (STMEA:78.A.82.1.1). Original painting by J. Haynes-William.
Here we have a chestnut roaster and a poster, titled "A Merry Christmas to All". The painting was originally made by John Haynes-William. Both objects can share a flavour of some Christmas food traditions.
Roasting Chestnuts, using objects like this chestnut roaster, is a seasonal delight that is not only enjoyed in the UK, but has been enjoyed for thousands of years throughout the world. In Tuscany, Italy, the chestnut tree is often referred to as "the bread tree" (l'albero del pane) and this was because the nut proved to be a versatile ingredient. It was the staple starch of many Mediterranean homes: boiled and mashed like a vegetable, used in stuffing, stews and soups, roasted whole, or dried and ground into flour and eaten as a bread or a porridge. When roasted, chestnuts produce a sweet nutty aroma and have an earthy sweet potato-like taste. Why not incorporate some roasted chestnuts into your Christmas celebrations this year? Who knows what nutritious and delicious delights you might discover thanks to this natural winter staple.
The 1892 poster from our collection depicts individuals celebrating Christmas around a table. As was noted earlier, Christmas, as we celebrate it today, has its origins in Victorian Britain and by the end of the 19th century, it had become the biggest annual celebration, taking on the form that we recognise today. This shift is often attributed to Queen Victoria's marriage to the German-born Prince Albert, from whom some of the prominent aspects of Christmas were introduced. Charles Dickens 'A Christmas Carol' was also very influential as it spread the idea of a Christmas dinner with a roast bird, all the trimmings and a pudding on the table.
It can also be said that the Victorians transformed the idea of Christmas. They centred festivities around the family, as well as the preparation and eating of the feast, decorations and gift-giving, entertainments and parlour games.
Left: A 19th-20th century brandy flask from the Museum's Collection, STMEA:A.5237. Right: Another brandy flask, STMEA:A.5238
Finally, we have two brandy flasks, one with some intricate pattern detail on plated brass and the other covered in snakeskin on its top half. The flasks are made from glass and have cork-lined caps.
Brandy plays a fun part in our festive foods from brandy butter to Christmas Pudding, which are often enjoyed together. In addition to this, brandy is often the alcohol poured over Christmas pudding, which can then be set alight to make a brilliant display.
Brandy snaps are also known to be eaten during Christmastime, but they actually don't contain any brandy. The 'brandy' aspect refers to "branded" as in burnt, alluding to the caramelization of the biscuit as it bakes.
The brandy snap has been around for a long time, yet its exact origin is unknown. In the early 1800s, the brandy snap (also referred to as Jumbles) was made hot and served flat; but with time, the flat Jumble was wrapped in a curled shape, with the help of wooden spoon handles.
They were traditionally made at fairs or at seasonal markets and were made from honey, treacle or molasses. Nowadays, people often add spices such as cinnamon, ginger or nutmeg to the biscuit mix or brandy and orange zest to the cream filling for a richer flavour.
If you like brandy, why not have a go at making some this Christmas? Here is a recipe by Nigel Slater for making Brandy snaps that may inspire you to don your festive apron.
Moné Betterton
Museum Futures Collections Trainee, December 2021
Museum Futures is The British Museum's latest Skills for the Future training programme. It has been generously supported by the National Lottery Heritage Fund
Share this article