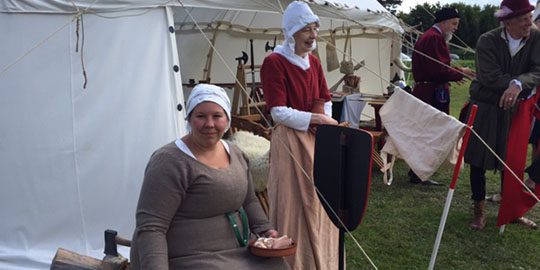 A day out at the East Anglian Living History Fair
We invited our newest volunteer Gerda Gordon-Hall to experience the East Anglian Living History Fair last weekend and write about her day out
Came to see the East Anglian Living History Fair at the museum this weekend, what a fabulous experience! So much to see and do.
I was really impressed by the attention to detail, knowledge and dedication of those taking part- it felt like I was taking a step back into history.
I was particularly taken with the birds of prey, magnificent creatures,  but also by a  young lady who very confidently not only handled one of the birds but explained to me how they were used in medieval times for hunting plus many more interesting facts.
I also had a fascinating conversation with a beautifully attired medieval Lady whose knowledge of the period was amazing- I learnt so much about day to day life, was encouraged to handle artefacts made with astonishing detail such as a beautifully and authentically made illuminated book- I would have happily talked to her all day!
People often think of visiting a museum as something rather dull, a thing you might do on a wet afternoon when there's nothing else to do. Events like this show how different that can be- this bought history to life; you could see, hear, taste, smell, touch. All credit to the many historical societies and individuals who took part; their dedication, infectious enthusiasm and friendliness made for a fabulous time for all ages.
Share this article